DELAIN Releases New Single & Music Video "Burning Bridges"
|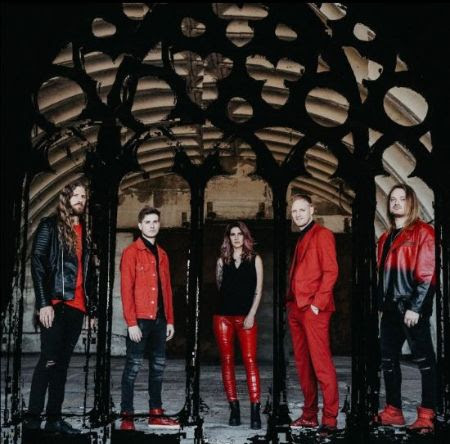 Following up on their critically acclaimed EP, "Hunter's Moon', released via Napalm Records earlier this year, DELAIN have stunned fans around the world once again with their brand new single, "Burning Bridges". Accompanied by an emotive new video, the song highlights the spectacular vocal talents of Dutch vocalist Charlotte Wessels, and once again, the undeniable atmospheric range of DELAIN's music solidified by their potent previous releases.
Juxtaposing multiple genres and musical landscapes, "Burning Bridges" not only confirms the fascinating duality of DELAIN's concept, but also allows Wessels to unleash her hard rock-tinged charisma in melodic chorus – the central point of the diverse song structure. Combined with the music video's breathtaking aesthetics, "Burning Bridges" is in line to become a signature track amidst DELAIN's catalog – combining gripping guitar solos, cinematic instrumentals, and outstanding vocal performances.
After creating suspense with the previous release of two video teasers, DELAIN unfolds the entire story in their new music video.
The band states: "We are proud to present "Burning Bridges", the first track off our sixth full studio album. With its energy and bombast the track marries some of our favorite musical elements, and introduces a real life choir as a new color on our palate. We hope you enjoy the track, along with its video, shot in beautiful Snowdonia."
North American fans have the privilege of being the first to experience this fiery sonic spectacle in person! In conjunction with the single release, DELAIN are currently touring the United States and Canada, and are set to perform nearly 30 live shows:
19 / 09 / 2019 PHILADELPHIA PA / Theatre of Living Arts
20 / 09 / 2019 NYC NY / Gramercy Theatre
21 / 09 / 2019 WORCESTER MA / The Palladium
22 / 09 / 2019 CLIFTON PARK NY / Upstate Concert Hall
23 / 09 / 2019 MONTREAL QC / Club Soda
25 / 09 / 2019 QUEBEC CITY QC / Imperial Bell
26 / 09 / 2019 TORONTO ON / The Opera House
27 / 09 / 2019 CLEVELAND OH / Agora Theatre
28 / 09 / 2019 JOIIET IL / The Forge
29 / 09 / 2019 MILWAUKEE WI / Turner Hall
30 / 09 / 2019 MINNEAPOLIS MN / The Cabooze
02 / 10 / 2019 CALGARY AB / Dickens
03 / 10 / 2019 EDMONTON AB / Starlite Room
05 / 10 / 2019 VANCOUVER BC / The Venue – Vancouver
06 / 10 / 2019 SEATTLE WA / El Corazon
08 / 10 / 2019 SACRAMENTO CA / Ace of Spades
09 / 10 / 2019 SAN FRANCISCO CA / Slims
10 / 10 / 2019 WEST HOLLYWOOD CA / Roxy Theater
11 / 10 / 2019 ANAHEIM CA / City National Grove
12 / 10 / 2019 TEMPE AZ / The Marquee
14 / 10 / 2019 ENGLEWOOD CO / Gothic Theatre
15 / 10 / 2019 KANSAS CITY MO / The Riot Room
16 / 10 / 2019 DALLAS TX / Trees
17 / 10 / 2019 HOUSTON TX / Scout Bar
19 / 10 / 2019 TAMPA FL Orpheum
20 / 10 / 2019 ATLANTA GA / The Masquerade
21 / 10 / 2019 BALTIMORE MD / Soundstage


European Tour
w/ Arkona
19 / 11 / 19 DE – Bochum / Zeche
21 / 11 / 19 LU – Esch-sur-alzette / Rockhal
22 / 11 / 19 DE – Karlsruhe / Substage
23 / 11 / 19 CH – Pratteln / Z7 Konzertfabrik
24 / 11 / 19 HU – Budapest / Barba Negra
28 / 11 / 19 DE – München / Backstage Werk
29 / 11 / 19 DE – Berlin / Lido
30 / 11/ 19 DK – Kobenhavn V / Pumpehuset, Store Sal
01 / 12 / 19 DE – Hamburg / Gruenspan
03 / 12 / 19 DE – Hannover / Musikzentrum Hannover
04 / 12 / 19 DE – Aschaffenburg / Colos-Saal
05 / 12 / 19 FR – Villeurbanne / Transbordeur
06 / 12 / 19 FR – Paris / Carbaret Sauvage
---
Don't forget to follow our Spotify Playlist: