Rob Zombie Unleashes '31 – A Rob Zombie Film
|
Rob Zombie unleashes 31 – A Rob Zombie Film (Original Motion Picture Soundtrack) today via UMe for download and streaming, with vinyl to follow on April 14, 2017. Produced by Zombie, the 31 soundtrack includes eight exclusive original score compositions he co-wrote and/or recorded with collaborators John Five, Bob Marlette, and Chris "Zeuss" Harris, and well-known tracks by other artists, including James Gang, Lynyrd Skynyrd, and The Mamas And The Papas. Throughout the soundtrack, Zombie has interwoven the music with gripping narrative clips from the terrifying film, which will be released on home video on December 20 (Lionsgate).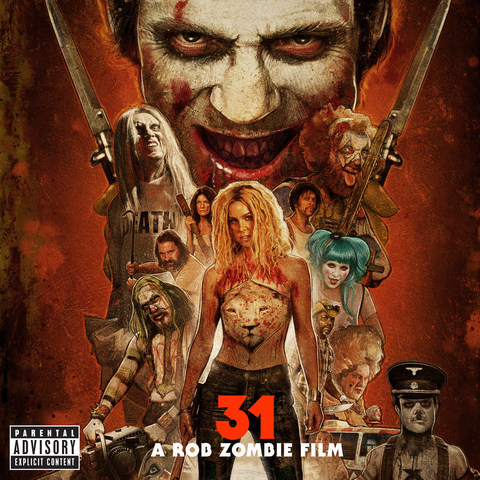 Zombie's seventh feature film, 31 made its world premiere at Sundance Film Festival before its theatrical release on September 1. From the visionary mind of the man who brought us House of 1000 Corpses, The Devil's Rejects and Halloween springs the horrific story of five carnival workers who are kidnapped the night before Halloween and held hostage in a large compound. At the mercy of their captors, they are forced to play a twisted game of life or death called 31. For the next 12 hours they must fight for their lives against an endless parade of homicidal maniacs.
As a rock legend and filmmaker with a unique vision, Rob Zombie has continuously challenged audiences as he stretches the boundaries of both music and film. He has sold more than fifteen million albums worldwide and he is the only artist to experience unprecedented success in both music and film as the writer/director of seven feature films with a worldwide gross totaling more than $150 million. Zombie's sixth solo studio album, The Electric Warlock Acid Witch Satanic Orgy Celebration Dispenser, was released in April.
31 – A Rob Zombie Film (Original Motion Picture Soundtrack)

1.  Call It A Day                                

 Al Bowlly with Roy Fox and His Band

2.  They Call Me Doom-Head             

 Richard Brake  

3.  Walk Away                                 

 James Gang    

4.  The Midway Say Sweet Charley    

 Lawrence Hilton-Jacobs

5.  That Smell                                  

 Lynyrd Skynyrd

6.  Fixing These Death Traps            

 Jeff Daniel Phillips

7.  We Buried Her Beneath The Willows 

 Kitty Wells

8.  You Digging What You See Pops?   

 Sheri Moon Zombie

9.  Walking The Floor Over You            

 Ernest Tubb     

10. Wolfman Jack Halloween Show     

 Wolfman Jack  

11. RV Attack                                    

 John Five, Rob Zombie, Bob Marlette, Chris Harris

12. We Are Going To Play                   

 Malcolm McDowell

13. The Game Begins                         

 John Five, Rob Zombie, Bob Marlette, Chris Harris

14. Number 4                                      

 Pancho Molar

15. Bathroom Hell                               

 John Five and Bob Marlette

16. Count Yourselves Lucky                

 Lew Temple and David Ury

17. Wet Kitty                                     

 John Five, Rob Zombie, Bob Marlette, Chris Harris

18. Hunt These Freaks Down              

 Sheri Moon Zombie

19. Inside The Cage                           

 John Five, Rob Zombie, Bob Marlette, Chris Harris

20. Sex And Death                            

 Torsten Vogues and E.G. Daily

21. Death And Sex Fight                   

 John Five, Rob Zombie, Bob Marlette, Chris Harris

22. Perfect Game                              

 Richard Brake

23. Moonwheel Zero Gravity Whirlpool  

 Chris Harris

24. I'm Not Crazy                               

 Richard Brake

25. California Dreamin'                       

 The Mamas And The Papas

26. The Eyes Of A True Champion       

 Richard Brake

27. The Show Must Go On                  

 John Five and Bob Marlette

28. Another Exciting Year Of 31          

 Malcolm McDowell
---
Don't forget to follow our Spotify Playlist: