Narada Michael Walden Releases Hit New Single Billionaire on Soul Street
|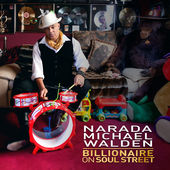 Tarpan Records is pleased to announce the international release of three-time Grammy and Emmy Award winning multi-platinum artist / producer Narada Michael Walden's track Billionaire On Soul Street, the first single from his upcoming full-length album Evolution!
Producing and co-writing hits over the years for iconic artists such as Whitney Houston, Aretha Franklin, Diana Ross, Ray Charles, Gladys Knight, Wynonna Judd, George Michael, Mariah Carey, Barbara Streisand, Lionel Ritchie, Lisa Fischer, Stevie Wonder, Tom Jones, Jeff Beck, The Temptations, and countless others, Narada has been at the helm of hit music that spans decades.
Marking his now 40th Anniversary in the music industry, Narada was recently honored by Billboard Magazine as one of the Top Ten Producers of All-Time, and now Billionaire On Soul Street has already garnered rave reviews worldwide.
Narada reveals, "This song Billionaire on Soul Street means the world to me because it reflects my personal feeling of spirituality and that feeling renewed for life by having my children Kelly and Kaylah in my life and my wife Katie. Having children now at this time in my life really has touched my heart to feel like 'WOW! Look how lucky and how blessed I am by God.' So I used this slogan, cause' I feel so good, like a Billionaire on Soul Street!"

Narada and his band will perform a series of shows across the United States in the next few months in support of the new single release and his upcoming album.
---
Don't forget to follow our Spotify Playlist: