New Found Glory Releases "The Power of Love"
|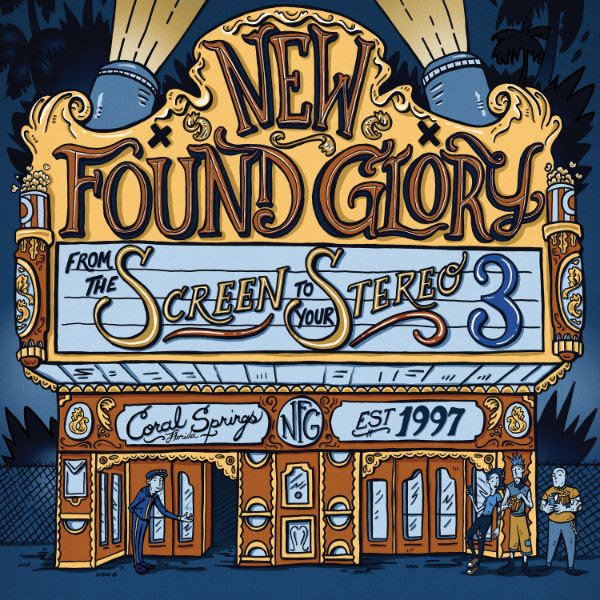 New Found Glory has been teasing fans for months about their upcoming album, From The Screen To Your Stereo 3, and today have finally dropped the first single and video from the special collection of covers. Taken from the timeless fan-favorite film Back to the Future, New Found Glory have given "The Power of Love" their own classic pop-punk treatment.
Over their span of 20 non-stop years in the music industry, New Found Glory have released 9 studio albums, 1 live album, 2 EPs and 3 cover albums. New Found Glory is Jordan Pundik (lead vocals), Chad Gilbert (guitar), Ian Grushka (bass guitar) and Cyrus Bolooki (drums).
Due out May 3, 2019 via Hopeless Records, the upcoming album is the third installment of New Found Glory's critically acclaimed nostalgic movie cover records. Not only did the band self record the EP, they also self-produced a music video for all 7 tracks!  
Featuring today's release along with fun and energetic NFG versions of movie soundtrack songs including "Let It Go" from Frozen,"Eye Of the Tiger" from Rocky 3, "This Is Me" from The Greatest Showman, "Cups" from Pitch Perfect, "A Thousand Years" from Twilight Breaking Dawn and "Accidentally In Love" from Shrek, this is set to be an album that music and movie lovers of all ages are sure to enjoy. Both New Found Glory and fans alike have been enjoying these re-imagined tracks for nearly 20 years, with the first collection of iconic tracks being released back in 2000.
"From The Screen To Your Stereo 3" Tracklisting:
1. Cups
2. This Is Me
3. The Power Of Love
4. Let It Go
5. Accidentally In Love
6. A Thousand Years
7. Eye Of The Tiger
---
Don't forget to follow our Spotify Playlist: