Five Finger Death Punch announce new album 'And Justice for none'
|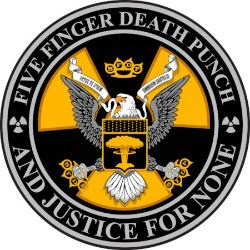 This week, multi-platinum hard rock band, Five Finger Death Punch, have announced that they will be releasing their highly anticipated seventh full-length studio album 'And Justice For None' on May 18th. The long-awaited collection is available for physical pre-order today in the following physical formats: Standard physical CD (13 tracks), Deluxe physical CD (13 tracks + 3 bonus tracks + Deluxe artwork), Vinyl (13 tracks + 3 bonus tracks + Deluxe gatefold artwork). The band is also offering fans a variety of brand new CD/merchandise bundles. The digital album pre-order will launch on April 6th.
The current singles of Five Finger Death Punch ("Gone Away", #6), Breaking Benjamin ("Red Cold River", #4) and Nothing More ("Do You Really Want it?", #7) have all entered the US Top Ten rock chart with Bad Wolves closely following on their heels with "Zombie" at #14.
Says Five Finger Death Punch guitarist, Zoltan Bathory: "When I'm being asked for a tour quote I'm always scratching my head… Is there anything to add really? We are putting together 2018's biggest Hard Rock tour of the Summer; where even the first band on the bill has a massive hit single around the world. There will be fire, there will be lights and it's going to be loud. An experience you can't just download, you have to be there. We all get about 80 summers in our lifetimes so make them count". Larry Frank, Owner Frank Productions/Live Nation adds: "This is the type of tour package that is all too rare nowadays. Five Finger Death Punch, Breaking Benjamin, Nothing More, and Bad Wolves is the kind of tour that keeps music alive and exciting and at the same time introduces the audience to newer bands that will become the next generation of arena rock acts".
'And Justice For None' Standard Album Artwork & Playlist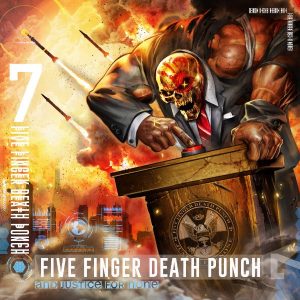 1. Fake
2. Top Of The World
3. Sham Pain
4. Blue On Black
5. Fire In The Hole
6. I Refuse
7. It Doesn't Matter
8. When The Seasons Change
9. Stuck In My Ways
10. Rock Bottom
11. Gone Away
12. Bloody
13. Will The Sun Ever Rise
'And Justice For None' Deluxe Album Artwork & Playlist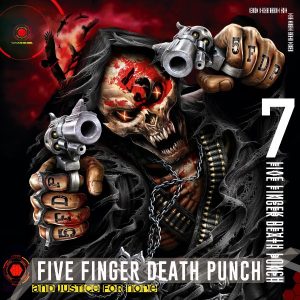 1. Trouble (Bonus Track)
2. Fake
3. Top Of The World
4. Sham Pain
5. Blue On Black
6. Fire In The Hole
7. I Refuse
8. It Doesn't Matter
9. When The Seasons Change
10. Stuck In My Ways
11. Rock Bottom
12. Gone Away
13. Bloody
14. Will The Sun Ever Rise
15. Bad Seed (Bonus Track)
16. Save Your Breath (Bonus Track)
---
Don't forget to follow our Spotify Playlist: