WDR Big Band in Future With "Very Special Constellation": Jazz Legend Bob Mintzer Will be Chief Conductor, Vince Mendoza Composer in Residence
|
"Reach for the stars, in order to offer our jazz-loving audience the very best, that is the mission of our WDR Big Band. Now we have succeeded in offering a very special constellation: with Bob Mintzer as Chief Conductor and Vince Mendoza as 'Composer in Residence' and 1st Guest Conductor. I am really delighted at the double 'big bang' for the musicians in the band and the many fans of our outstanding big band sound", says WDR Radio Director Valerie Weber.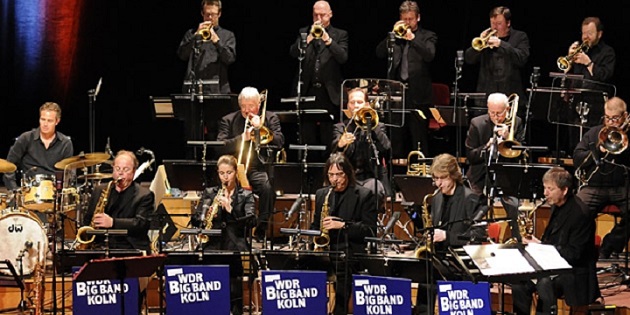 The American jazz musician, composer and arranger Bob Mintzer will be taking over the leadership of the WDR Big Band in Summer 2016. Mintzer (born in 1953) has been putting his personal stamp on big band jazz for over 30 years. His compositions are included in the standard repertoire of modern big band literature. Mintzer was already active, playing the saxophone, in many famous bands in the 1970s, in particular, in the outstanding big bands of Buddy Rich and Thad Jones/Mel Lewis. The Grammy winner has been involved as a saxophonist and bandleader on countless CD recordings. Also as a member of the jazz-fusion group "Yellowjackets" Mintzer has set standards. Mintzer has played with music greats like Aretha Franklin, Queen, Art Blakey, Milton Nascimento, Herbie Hancock, the New York Philharmonic and the Hollywood Bowl Orchestra, among others.
In addition to his work as a jazz musician, Bob Mintzer is also a highly-recognized jazz agent and teacher. From 1985 to 2007, he taught at the Manhattan School of Music, NYC; since 2008, Bob Mintzer has been a professor at the USC Thornton School of Music in Los Angeles – currently as head of the jazz program.
Bob Mintzer has already had close links with the WDR Big Band since 1986. He has conducted or written for the band on many occasions in the past thirty years, most recently in June 2014. The contract with Bob Mintzer will initially run for two years.
"I'm honored and thrilled to serve as chief conductor with the WDR Big Band. After 30 years of intermittently working with the band it will be great to spend more time with this fine ensemble and help to shape the sound and direction. The WDR Big Band is one of the best big bands in the world, and I look forward to seeing where this collaboration will take us," said Bob Mintzer.
Simultaneously, as of the 2016/17 season (also initially for a period of two years), the multiple Grammy award winner Vince Mendoza will join the WDR Big Band as Composer in Residence/1st Guest Conductor.
Vince Mendoza, born in 1961 in Norwalk, Connecticut, has for more than 20 years been one of the leading composers, arrangers and big band leaders. Mendoza composes not only for big bands, but also for renowned chamber and symphony orchestras. At the present time, Mendoza is increasingly active for film productions in Hollywood. His arrangements have appeared on highly-acclaimed recordings, including some with music greats like Björk, Chaka Khan, Al Jarreau, Diana Krall, Sting, Joni Mitchell, Joe Zawinul, the Brecker Brothers and Joe Lovano. For his work to date, Mendoza has received six Grammy Awards and 29 Grammy nominations. Vince Mendoza has been working regularly and very successfully with the WDR Big Band since 1991, most recently in November 2015. The WDR Big Band was awarded a "German Jazz Award" for the album "Jazzpaña". The CD "Some Skunk Funk", which was also arranged by Vince Mendoza, was honored in 2006 with a Grammy.
Vince Mendoza is looking forward to his continued engagement with the WDR Big Band: "In fact, when I think about some of my more inspired projects, they were all developed in Cologne with WDR. I am most grateful for the opportunity as Composer-In-Residence to be continuing my musical journey with the WDR Big Band, writing new music and interfacing with the artistic community in new and interesting ways. I will continue to feel honored to stand in front of what I view as simply the best band in the land."
Richard DeRosa, who successfully led the WDR Big Band in the 2015/16 season, terminated his engagement in order to concentrate on his professorship as head of the Jazz Composition/Arranging program at the University of North Texas.
---
Don't forget to follow our Spotify Playlist: