Chip Wickham's final fling of 2017
|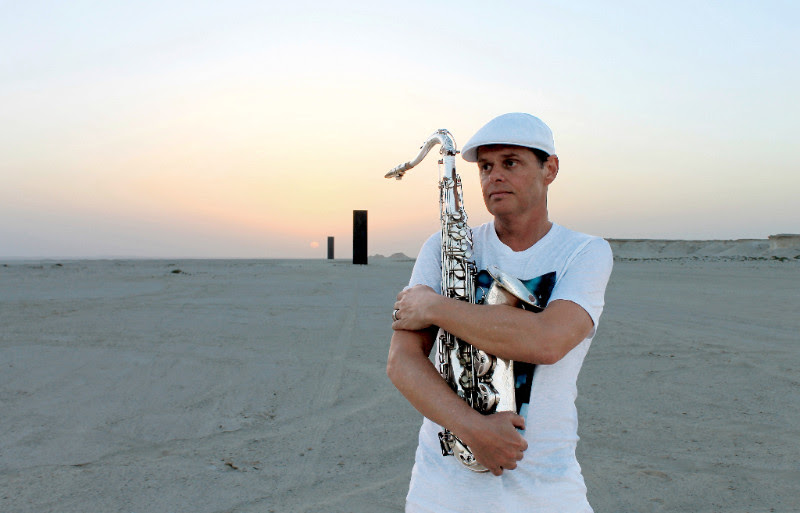 Veering off-road from his much-lauded sound typified on his debut breakout album La Sombra, Chip Wickham lets his hair hang and blow in the wind with his sure-fire, funk fuelled, floor-filler 'The Beatnik'. Wah-wah guitar licks, an uptempo breakbeat and his signature transverse flute give the tune an impetuous feel – the perfect soundtrack for a high-speed car chase or a sweaty soul-jazz-funk basement club.
Now living in Doha after an intense and productive six years in Madrid, it was Manchester where Chip studied in the late '80s and became enmeshed in the chaotic and thrilling music scenes emanating from one of the world's most culturally prominent cities of the time. Recording and generally 'keeping things real' with Manchester's hip-hop collective Grand Central Records, Rae & Christian, The Pharcyde, Fingathing, Nightmares on Wax, Graham Massey (808 State), Chip was in a city that was undergoing a music revolution with the Haçienda as its temple. Yet it was the headlights of the M62 motorway and not the strobe lights that were illuminating Chip's path during his student years ('88-'92). The lure of the jazz and funk clubs of Leeds, where The New Mastersounds were breaking out and building the blocks that would lead them to UK funk royalty status, proved too strong.
In the 1990s Chip continued to refine his craft in the rainy city and the gigs booked were growing in stature. It wasn't long before he was on the road with Roy Ayers and Badly Drawn Boy. Around that time Chip met up with trumpeter Matthew Halsall that was the beginning of a friendship that lasts to this day. Chip was a recording artist on Matthew Halsall's breakout album Sending My Love and continues to work with him, with live dates confirmed in spring 2017. This close connection with Halsall gave rise to other collaborations such as with Nat Birchall and Rob Turner from Go Go Penguin.
Three decades after his late night excursions to Leeds, Chip found himself recording with Eddie Roberts from The New Mastersounds in Madrid, as part of their new band, The Fire Eaters, which he'd formed soon after he moved to sunny Spain in 2007 – the same year he released the Fried Samba album under his moniker Malena, his electronic Latin band for Freestyle Records. During his time in Spain he connected with the local scene and brought together many of his musicians colleagues from the UK to Spain and it was for a local and well established label, Lovemonk Records, that he released two 45s blending raw funk and Latin. These new roads and musical leanings led to an invitation to play for the prestigious Craig Charles Fantasy Funk Band. Based on a poll from Craig Charles' top rated BBC6 radio show, Chip was chosen to play alongside the cream of the UK funk & soul scene: James Taylor (JTQ), Snowboy, The Haggis Horns (Mark Ronson), John Turrell (Smooth & Turrell), and Mick Talbot (The Style Council).
'La Sombra' takes an altogether more rooted direction than Chip's recent collaborative work with the jazz of the late '60s and early '70s the dominating influence to the recordings. Comprising of seven tracks recorded in Madrid with musicians assembled by Chip from Madrid's jazz scene, it combines contemplative explorations akin to Yusef Lateef's early work on tracks like 'La Sombra' and 'Pushed too Far'. There's a fiery cover of Camarón de la Isla's classic 'La Leyenda Del Tiempo' and tracks like 'Sling Shot' and 'Red Planet' are locked in a groove harking back to Freddie Hubbard's Blue Note era and Nathan Davis.
On the flip, 'Rebel No.23' is a return to the '70s inspired jazz grooves of his debut album and indeed a taste of what's to come on his much anticipated follow up record, slated for release in spring 2018.
---
Don't forget to follow our Spotify Playlist: