Kylie Announces new album 'Kiss Me Once'
|
Kylie releases her brand new album 'Kiss Me Once' on Parlophone on March 17. The first single, the shimmeringly anthemic 'Into The Blue', has moved forward to March 9 after the track leaked online last weekend – generating a huge buzz on Twitter, and Popjustice instantly awarding it 9/10. The official video, which features actor Clement Sibony, will be revealed soon.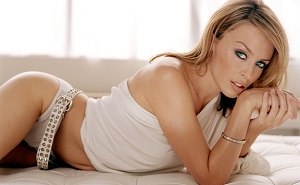 'Kiss Me Once' is Kylie's first studio album since 2010's 'Aphrodite', and her first since signing to Roc Nation Management. The album, a definite return to the dance floor after 2012's 'Abbey Road Sessions', was executive produced by Kylie and Sia, who co-wrote the title track.
Kylie also teams up with Pharrell Williams (who wrote and produced 'I Was Gonna Cancel'). Other producers include Ariel Rechtshaid (HAIM) on 'If Only', MNEK on 'Feels So Good', and Greg Kurstin on bonus track 'Sleeping With The Enemy'.
Kylie said: "Making this album was quite a journey but I loved it! It was through a time in my life where there were a lot of changes and new beginnings. I'm thrilled with the response to "Into The Blue", and I can't wait for you hear the rest of the record!"
Kylie made a triumphant debut as a coach on The Voice UK recently, with The Guardian exclaiming that she "single-handedly revived the show" as it pulled in record viewing figures. She is also coaching on The Voice Australia, which began filming this year.
'Kiss Me Once' will be available in standard and deluxe editions. The tracklisting for the album is as follows:
1. Into The Blue
2. Million Miles
3. I Was Gonna Cancel
4. Sexy Love
5. Sexercize
6. Feels So Good
7. If Only
8. Les Sex
9. Kiss Me Once
10. Beautiful
11. Fine
The deluxe edition will include the following bonus tracks along with exclusive video footage:
12. Mr President (bonus track)
13. Sleeping With The Enemy (bonus track)
---
Don't forget to follow our Spotify Playlist: