Two New Bing Crosby CD Releases From the Bing Crosby Archive And UMe
|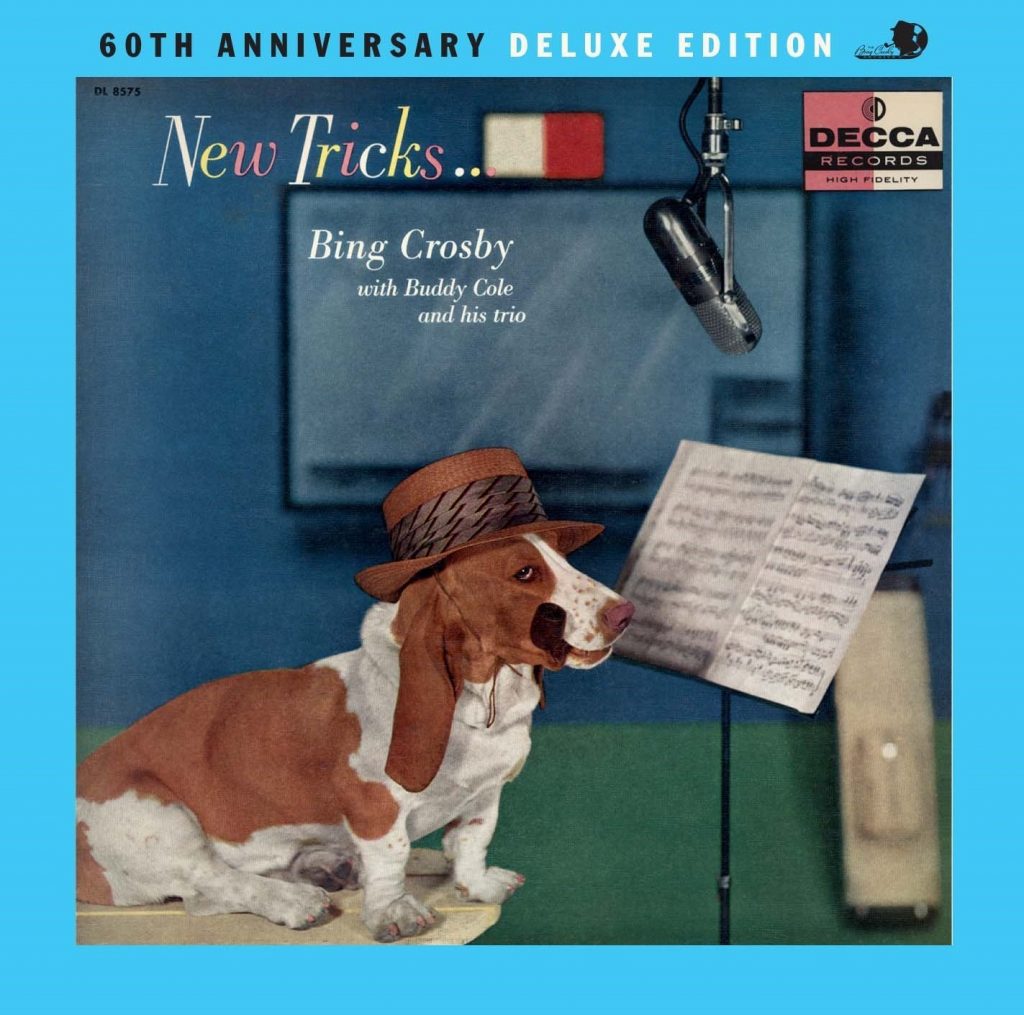 HLC Properties, Ltd., the Crosby family company, announces the release of two new entries in the Bing Crosby Archive CD series. New Tricks: 60th Anniversary Deluxe Edition and Among My Souvenirs: More Treasures from the Crosby Archive will be released on December 8, 2017, through UMe. Kathryn Crosby, Bing's widow is the executive producer of the series. She notes, "It's gratifying that forty years after Bing left us we're still able to bring both familiar and unfamiliar recordings to new generations of listeners." Bing's son Harry added, "It's very satisfying to be able to keep my father's music available, and to bring him into the digital world with such an expansive catalog. He was a pioneer on the technical side of the music industry, so it's important to keep him current. The Crosby family is very pleased to partner with UMe on this project."
The original 1957 twelve-track New Tricks LP has been freshly mastered from the original session tapes and expanded with twelve bonus tracks, including nine that have never previously been released. Bing is accompanied by Buddy Cole and His Trio, and the small group setting is a wonderful showcase for his voice on such standards as "Georgia on My Mind," "Between the Devil and the Deep Blue Sea," and "Chicago." New Tricks is the fourth and final 1950s Decca Crosby LP to be reissued in the deluxe format by the Bing Crosby Archive. In 2013 Bing's first LP, Le Bing: Song Hits of Paris (1953), received the deluxe treatment. Some Fine Old Chestnuts (1954) and Songs I Wish I'd Sung the First Time Around (1956) were released in deluxe editions in 2014.
New Tricks: 60th Anniversary Deluxe Edition
(Original album, remastered)
1. Alabamy Bound
2. When I Take My Sugar to Tea
3. Between the Devil and the Deep Blue Sea
4. Georgia on My Mind
5. I'm Confessin' (That I Love You)
6. If I Could Be With You
7. Avalon
8. Chinatown, My Chinatown
9. You're Driving Me Crazy
10. On the Alamo
11. Chicago
12. Softly, as in a Morning Sunrise
Bonus Content:
13. Rain
14. Church Bells
15. I'll Remember Today
16. My How the Time Goes By
17. Chee Chee-oo Chee (Sang the Little Bird)
18. Surprise
19. All the Time
20. Gigi
21. Tammy
22. Big D (with Lindsay Crosby) Take 2
23. Allegheny Moon (with Lindsay Crosby)
24. More Than You Know
Among My Souvenirs: More Treasures from the Crosby Archive is a 2-CD collection of 35 previously unissued recordings spanning Bing Crosby's entire career. The set, newly compiled by Crosby archivist Robert S. Bader, is comprised of recordings made between 1932 and 1977, and includes outtakes, live recordings, and radio and television performances, many featuring songs not previously part of the voluminous Crosby discography. Among the rarities: a 1968 recording with Diana Ross and the Supremes; some recently discovered concert recordings from 1956, and a track from Bing's final American concert in 1977. Among My Souvenirs is a companion volume to the 2010 Bing Crosby Archive release, So Rare: Treasures from the Crosby Archive.
Among My Souvenirs: More Treasures from the Crosby Archive
Disc 1:
1. Please
2. I'm Getting Sentimental Over You
3. The Day You Came Along
4. Bing & Jack Oakie at Paramount
5. Boo Boo Boo
6. Roll Along Prairie Moon
7. I've Been Floating Down the Old Green River
8. Hello Hawaii
9. When Irish Eyes Are Smiling
10. You Forgot Your Gloves
11. A Horse That Knows the Way Back Home
12. She Is the Sunshine of Virginia
13. What Do You Do in the Infantry?
14. Good Morning Mr. Zip Zip Zip
15. I've Told Every Little Star
16. Oh, But I Do
17. Minute Maid Radio Jingle (Extended Version)
18. Alabamy Bound (with Lindsay Crosby)
Disc 2:
1. Be My Life's Companion
2. Undecided
3. Please Mr. Sun
4. Moonlight and Roses (with Bob Crosby)
5. Tell Me Why
6. Dream a Little Dream of Me
7. Eternally
8. True Love (Live at Fall River)
9. In a Little Spanish Town (Live at Fall River)
10. I'm Confessin' (That I Love You) (Live at Fall River)
11. Big D (with Lindsay Crosby) Take 1
12. Old Cape Cod
13. The NATO Song
14. Among My Souvenirs
15. I Left My Heart in San Francisco
16. Paint Your Wagon Medley: I'm on My Way/I Talk to the Trees/I Still See Elissa/They Call the Wind Maria (with Diana Ross and the Supremes)
17. Send in the Clowns (Live at Concord Pavilion)
---
Don't forget to follow our Spotify Playlist: