Ziggy Marley Announces New Album 'Fly Rasta' Out April 14th 2014
|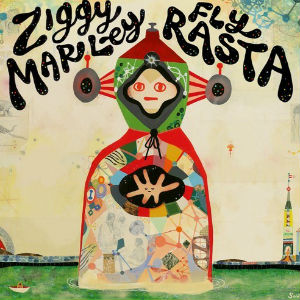 On 14th April 2014 Tuff Gong Worldwide and V2 BeNeLux proudly presents 'Fly Rasta' – the 5th studio album by Ziggy Marley. The album's release is quickly followed by a London headline show at Electric Brixton on Wednesday 23rd April, for which tickets will be on sale this Friday 31st January at 10am. 'Fly Rasta' finds Ziggy exploring both traditional reggae and new musical territories, often merging the two. Keen to stretch himself beyond his usual frame-of-reference, 'Fly Rasta' incorporates elements of rock, funk, soul and pop over a broad range of lyrical content.
Marley approached the making of 'Fly Rasta' by pushing himself into new musical space and beyond the boundary of his immediate repertoire. In early 2013, Marley wrote a mission statement for 'Fly Rasta' on a scrap piece of paper at his home studio in Los Angeles, CA. The concept was simple: make a reggae record that was true to Marley, but as importantly, the sound should push outside the typical confines of what reggae music is known for. Marley began work in the spring of 2013 and enlisted producer Dave Cooley (J Dilla, Silversun Pickups, Madlib) to focus on song structure and audio profiles, with the pair working together to sculpt each track.
Powerful, striking guitars blast off the album's lead track 'I Don't Wanna Live On Mars', which sets the tone musically and thematically for the entire album. This is a love song he has written to Mother Earth, and an ecological lament.
The album title track 'Fly Rasta' is an uplifting and empowering ska anthem featuring legendary toaster U Roy, while Marley's versatility of styles is demonstrated on the folky ballad 'Lighthouse'.
The stylistic palate shifts again on the dramatic, crescendo-building and sitar-laced 'Sunshine', before things continue to morph, into the raucous funk rock of 'You' and then the stripped-down acoustic beauty of 'So Many Rising'. The album closes on the simple message that to receive love you must, as the titles suggest 'Give It Away'.
Musicians from wildly varying backgrounds and genres were recruited with the deliberate intention of bringing sonic colour via the broad spectrum of creative approaches and styles, with the musicians even branching-out onto sitar, tabla and the taiko drum, in addition to their usual instruments.
Vocalists joining Ziggy were U Roy and The Melody Makers (Cedella Marley, Sharon Marley and Rica Newell).
The drummers featured are Stephen Ferrone (Tom Petty, Slash, Eric Clapton, Johnny Cash), Brian MacLeod (Tears For Fears, Pink, Christina Aguilera, Stevie Nicks), Motown stalwart James Gadson (Bill Withers, Randy Crawford, Martha Reeves, Qunicy Jones), plus Rock Deadrick.
The guitarists are Lyle Workman (Beck, Frank Black, Todd Rundgren), Takeshi Akimoto (Yellow Magic Orchestra, Taj Mahal) and Ian 'Beezy' Coleman.
On bass duties were Abraham Laboriel (Al Jarreau, Donald Fagen, Lalo Schifrin, Michael Jackson, Ray Charles) Dave Wilder (Big Daddy Kane, De La Soul, Mary Jane Girls, Barrington Levy) ,Guy Erez (Gypsy Kings, Alan Parsons project) and Pablo Stennett.
Keys came courtesy of Zac Rae (Lana Del Rey, Gary Clark Jnr), David Palmer (Air, Solomon Burke, Cake, Lindsey Buckingham), Brian LeBarton (Beck, Jamie Lidell, Feist), Mike Hyde Burning spear, Eek a Mouse, Luciano) and George Hughes. Along with pushing musical boundaries, the album is a call for humans to come together, support one another and treat Mother Earth with care and respect. Marley has been a strong advocate for the environment, the overall health of the planet and its inhabitants. He is a long-time supporter for the industrialization of hemp and recently launched his own line of GMO free, organic coconut oils and hemp seed snacks.
'Fly Rasta' tracklisting:
1. I Don't Wanna Live On Mars
2. Fly Rasta
3. Lighthouse
4. Sunshine
5. Moving Forward
6. You
7. So Many Rising
8. I Get Up
9. You're My Yoko
10. Give It Away
---
Don't forget to follow our Spotify Playlist: