4 Non Blondes: Still Going On
|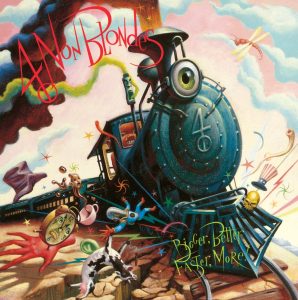 In its original 1992 release, 4 Non Blondes' first and only studio album Bigger, Better, Faster, More! made a multi-platinum mark on the public consciousness, thanks to the quartet's effortless chemistry and the soulful songcraft of singer Linda Perry. At the time, Entertainment Weekly noted that "the Blondes' musical grab bag (is) stuffed with jet-propelled folk rock, angst-ridden anthems, high-octane blues and '90s protest songs."
On October 13, UMe will celebrate the 25th anniversary of Bigger, Better, Faster, More!'s release with a special vinyl edition of this classic LP, marking its first-ever American vinyl release. In addition to its standard black-vinyl release, the anniversary LP will also be released in a limited Custom Opaque Green colored-vinyl edition that will be available exclusively through the online retailer uDiscover.
Birthed during the heady '90s alt-rock explosion, the colorful San Francisco foursome—frontwoman Perry, guitarist Roger Rocha, bassist Christa Hillhouse and drummer Dawn Richardson—crossed over from the modern-rock charts to the pop mainstream, scoring a major hit single with the anthemic smash "What's Up?," which topped the charts in several countries around the world.
That song, along with such memorable numbers as "Train," "Superfly," "Pleasantly Blue" and "Dear Mr. President," helped to endear 4 Non Blondes to a large and varied fan base. The album sold more than six million copies around the world, and the band raised its profile by touring with the likes of Bob Dylan, Neil Young and Pearl Jam. 4 Non Blondes eventually splintered when Perry departed for a Grammy-nominated songwriting/production career that would see her collaborate with the likes of Christina Aguilera, Alicia Keys, Pink, Gwen Stefani, Courtney Love and Kelly Osbourne.
Although 4 Non Blondes' existence was relatively brief, the band's popularity and influence continue to resonate a quarter-century later, and their lone album remains a beloved classic, making the release of this 25th-anniversary edition of Bigger, Better, Faster, More! a special event for the band's faithful fans.
---
Don't forget to follow our Spotify Playlist: