David Oxtoby show at the British Museum
|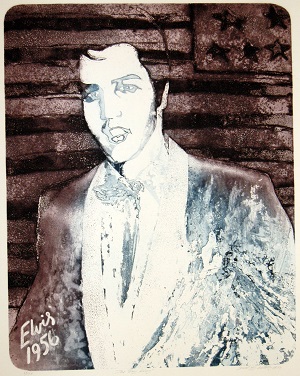 In the 1960s/70s when popular music was well and truly coming into its own, a series of paintings took the music and art world by storm. Titled simply 'Oxtoby's Rockers' they were precisely that – a series of pictures by artist David Oxtoby depicting some of the major music stars of the day… Hendrix, Bowie, Elvis, Chuck Berry, they were all there.
That his pictures then were so successful paved the way for many of the 'music artists' that followed. His bold use of colour and line created more than just form, it gave the lie to the essence of the subject as well.
A trained artist with a great vision, Oxtoby imbued these pictures with the spirit of an enduring passion of his – rock music. Something of a rebel himself, he was one of the renowned 'Bradford Mafia' (a term coined by Edward Lucie-Smith in 1967), a small group of students who studied at Bradford Art School and which also included Norman Stevens, John Loker, Michael Vaughan and David Hockney in their elite group of five.
Now, some 50 years later, The British Museum are displaying 20 of the 50 Oxtoby prints and drawings that they own, a unique opportunity for the public to appreciate and reacquaint themselves with the talent and originality that marked these pictures the first time round.
It is extremely rare for the Museum to mount a major show by a living artist and that they are doing so, exhibiting these exciting prints and drawings by Oxtoby, is tribute indeed.
Born in Yorkshire in 1938, David Oxtoby has devoted almost his entire career to portraying popular musicians and rock stars. He studied at Bradford College of Art (1950-1957) and later at the Royal Academy Schools from 1960 to 1964. As a student he had five one shows – practically unheard of for a young painter. In the 1960s he exhibited several times in New York and in 1965 was Visiting Professor of Painting at the Minneapolis Institute of Arts. His work is in many collections including the V&A, the Tate and the National Portrait Gallery.
In recent years David Oxtoby has created over 100 as yet unseen major works. The British Museum exhibition is free and runs until early April 2016.
---
Don't forget to follow our Spotify Playlist: