Frank Sinatra's 'Francis Albert Sinatra & Antonio Carlos Jobim' To Be Released April 7
|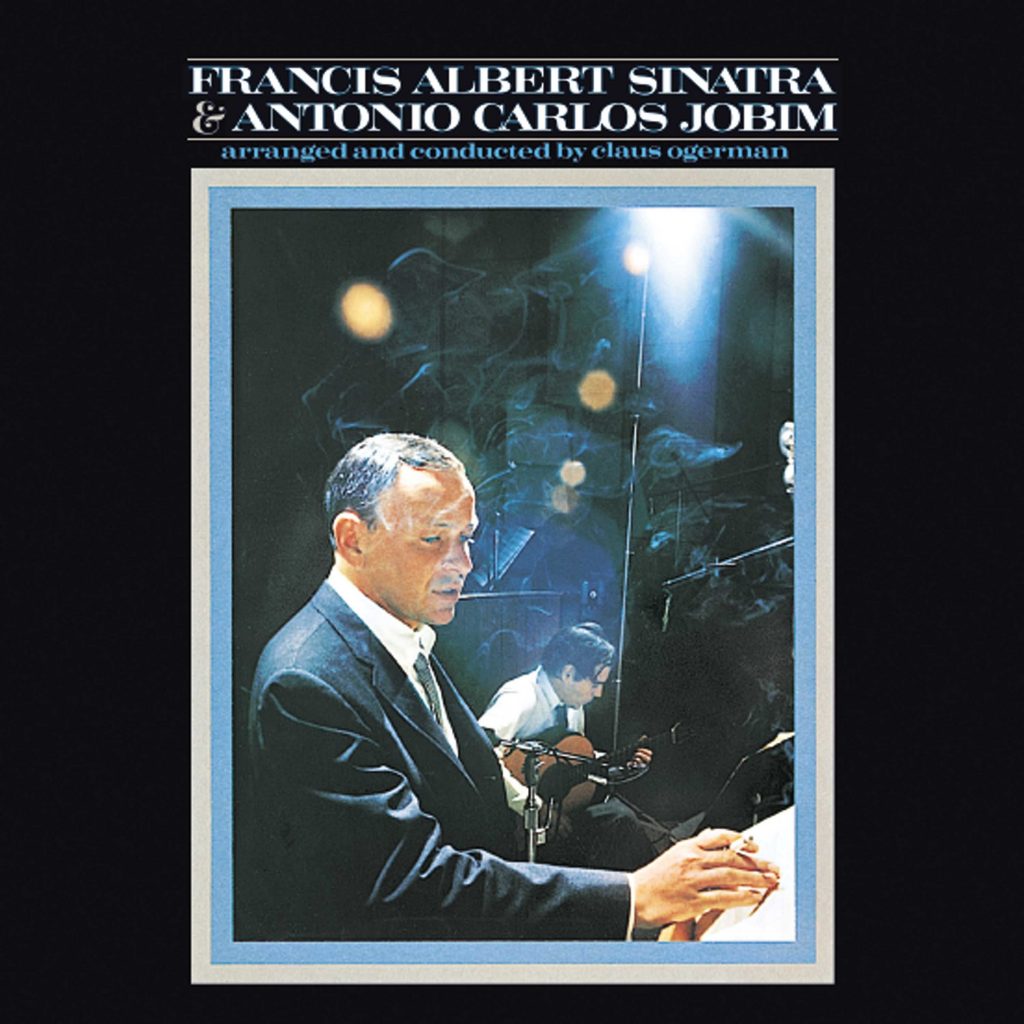 Frank Sinatra's acclaimed 1967 album with Brazilian music legend Antonio Carlos Jobim, Francis Albert Sinatra & Antonio Carlos Jobim, is expanded for its 50th Anniversary Edition, to be released April 7 on CD and digitally. On the same date, the remastered original album will be released on heavyweight 180-gram vinyl LP and in a limited blue vinyl edition, available exclusively from the Sinatra Shop and UDiscover Music.
Francis Albert Sinatra & Antonio Carlos Jobim brought together two maestros from divergent musical worlds in a serene sigh of sun-dappled bossa-nova. In evening studio sessions at Hollywood's Western Recorders between January 30 and February 1, 1967, Sinatra breathed new life into the album's 10 songs, accompanied vocally on four by Jobim, who also played guitar on the album. The album's tracks include seven Jobim originals and three American Songbook classics, delicately arranged and conducted by Claus Ogerman with a studio orchestra, and produced by Sonny Burke.
"I haven't sung so soft since I had the laryngitis," joked Sinatra during their first evening together in the studio, easing into the hushed swing of the sessions.
Francis Albert Sinatra & Antonio Carlos Jobim ascended Billboard's albums chart in April 1967, peaking at No.19 and remaining on the chart for 28 weeks. The 50th Anniversary Edition's CD and digital formats include two bonus tracks: A medley of "Quiet Nights of Quiet Stars"/"Change Partners"/"I Concentrate on You"/"The Girl from Ipanema" from A Man And His Music + Ella + Jobim, and a previously unreleased studio session of "The Girl from Ipanema" from January 31, 1967.
Francis Albert Sinatra & Antonio Carlos Jobim (50th Anniversary Edition)
CD / Digital
| | |
| --- | --- |
| 1. The Girl from Ipanema         | 6. If You Never Come to Me  |
| 2. Dindi                                   | 7. How Insensitive  |
| 3. Change Partners                   | 8. I Concentrate on You  |
| 4. Quiet Nights of Quiet Stars     | 9. Baubles, Bangles and Beads  |
| 5. Meditation                              | 10. Once I Loved  |
BONUS TRACKS
11. Sinatra-Jobim Medley:
Quiet Nights of Quiet Stars/Change Partners/I Concentrate on You/The Girl from Ipanema (from A Man And His Music + Ella + Jobim)
12. The Girl from Ipanema (previously unreleased studio session from January 31, 1967)
180g Vinyl LP / Limited Edition Blue Vinyl LP
| | |
| --- | --- |
| SIDE 1                             | SIDE 2 |
| 1. The Girl from Ipanema     | 1. If You Never Come to Me  |
| 2. Dindi                               | 2. How Insensitive  |
| 3. Change Partners               | 3. I Concentrate on You |
| 4. Quiet Nights of Quiet Stars  | 4. Baubles, Bangles and Beads  |
| 5. Meditation                           | 5. Once I Loved  |
---
Don't forget to follow our Spotify Playlist: