Blues Traveler Releases "Go Tell It on the Mountain"
|
In celebration of The Salvation Army's Red Kettle campaign, GRAMMY®-winning, multi-Platinum rock band Blues Traveler released their take on the Christmas hymn, "Go Tell It on the Mountain," with 100% of net proceeds from every download of the song benefitting The Salvation Army.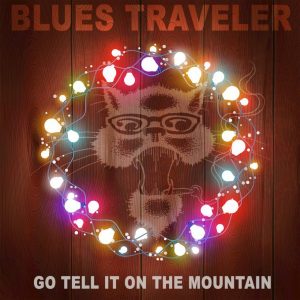 "Music is an important part of The Salvation Army's history, so there is no better way for us to celebrate the season than through song," explains Lt. Col. Ron Busroe, national community relations and development secretary for The Salvation Army. "To have an iconic group like Blues Traveler do something so selfless in the name of our organization is very inspiring to us and we are incredibly grateful."
"After learning all the ways The Salvation Army helps people in need, we wanted to help too," commented lead vocalist John Popper. "Their impact on feeding and sheltering people who need it most is undeniable, and we are grateful."
During the holiday season, over 3 million families rely on The Salvation Army to provide a warm meal on Christmas Day or toys for their children. Donating to the Red Kettles also allows the Army to serve more than 25 million people a year by providing over 10 million nights of shelter and 57 million meals a year, along with substance abuse recovery programs, after-school programs and emergency shelter for children and families in need.
In addition to purchasing "Go Tell It on the Mountain," supporters can contribute to the Red Kettle campaign at one of the more than 25,000 red kettles set up at storefronts nationwide; or they can share their #RedKettleReason and give back online at RedKettleReason.org; or via the Army's text-to-give program, by texting the word "KETTLES" to 51555, they can give an amount of their choice to the Red Kettle Campaign. Donors can also volunteer their time through a number of opportunities from ringing a bell to sorting toys to serving food. Information about these opportunities is available at SalvationArmyUSA.org.
This holiday season marks the 126th Red Kettle campaign since the program's humble beginnings in San Francisco, 1891. The Red Kettle campaign has grown into one of the most recognizable and important charitable campaigns in the United States, providing toys for kids, coats for the homeless and food for the hungry, along with countless social service programs year-round.
---
Don't forget to follow our Spotify Playlist: