New Information On The Death Of John Lennon
|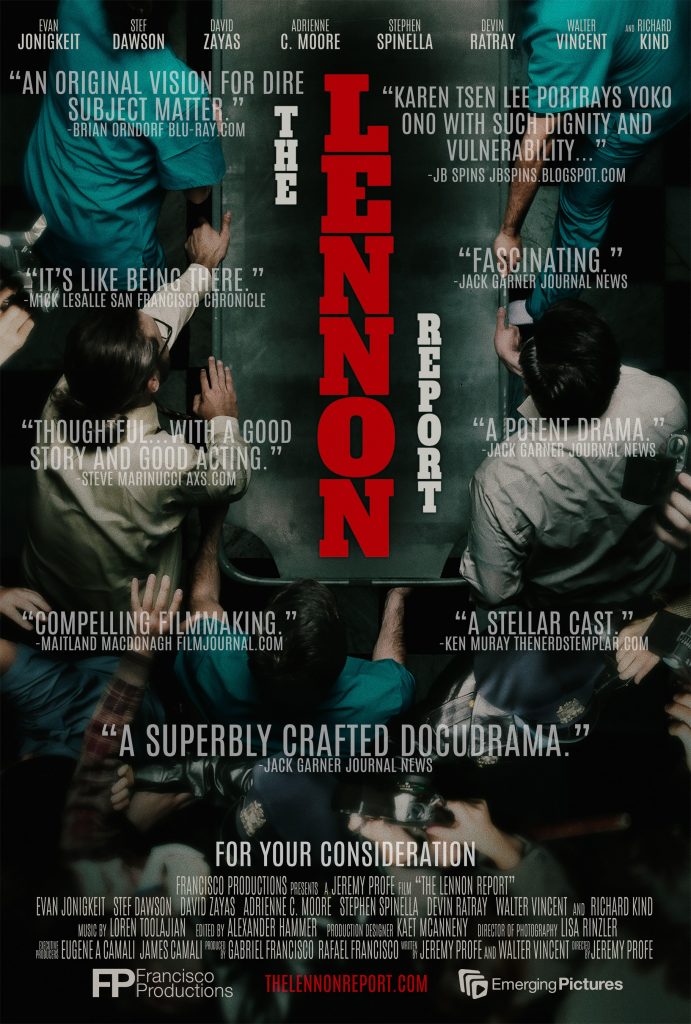 December 8th marks the day the world lost its most famous musician. As the 36th anniversary approaches, The Lennon Report movie exposes new information about the real surgeon, just recently revealed as the actual doctor who fought to save John Lennon's life, the nurses by his side, Lennon's grieving wife and the young journalist who broke the story of a lifetime. For some, this movie is the first telling of their story. For others, it sets the record straight.
Upon completion, last fall, the movie – and the story behind decades of inaccurate reporting about the night Lennon died – was featured in a lengthy segment on Howard Kurtz's show Media Buzz on FOX. The segment prompted a rare response from Lennon's widow Yoko Ono:
http://video.foxnews.com/v/4602042931001/the-untold-john-lennon-story/?#sp=show-clips
Directed by Jeremy Profe and produced by twin brothers Rafael Francisco and Gabriel Francisco, of Francisco Productions, the movie stars: Richard Kind, (Inside Out, Spin City, Curb Your Enthusiasm), Adrienne C. Moore, (Orange is the New Black), Stef Dawson, (The Hunger Games movies), Evan Jonigkeit, (X-Men: Days of Future Past, Tallulah, Whiskey, Tango Foxtrot), and David Zayas, (Dexter, Oz, The Expendables). The movie also features actress Karen Tsen Lee in a portrayal of Yoko Ono that has been repeatedly cited by fans and critics alike as a standout performance. The filmmakers believe Karen's performance is especially worthy of the Academy's consideration.
The Lennon Report racked up numerous awards at prestigious film festivals – including Best Director, Best Actor and three Audience Choice Awards. It opened in US theaters on October 7th and continues to play at select theaters across the country.
The Lennon Report is now available in the US on all major Video On Demand platforms including Amazon, Apple, iTunes, InDemand, Comcast XFinity, Dish, VHX, Mircosoft Store, Google Play, DirectTV, Vudu and across numerous cable provider networks. (The Lennon Report is also now available in Canada through iTunes.)
---
Don't forget to follow our Spotify Playlist: