"20 of Hank Williams' Greatest Hits" Now Available Back On Vinyl
|
It's impossible to overstate the power of Hank Williams' impact on country music, from the DNA imprint of his deeply personal songs to the children and grandchildren who've taken his rebellious spirit to heart and continued the family tradition. The Alabama singer-songwriter's tragic death at 29 on or around Jan. 1, 1953, ended one of the most sensational runs of hits in pop music history. 20 of Hank Williams' Greatest Hits, a collection of the country superstar's most iconic songs, is available back on vinyl today via Mercury Nashville/UMe.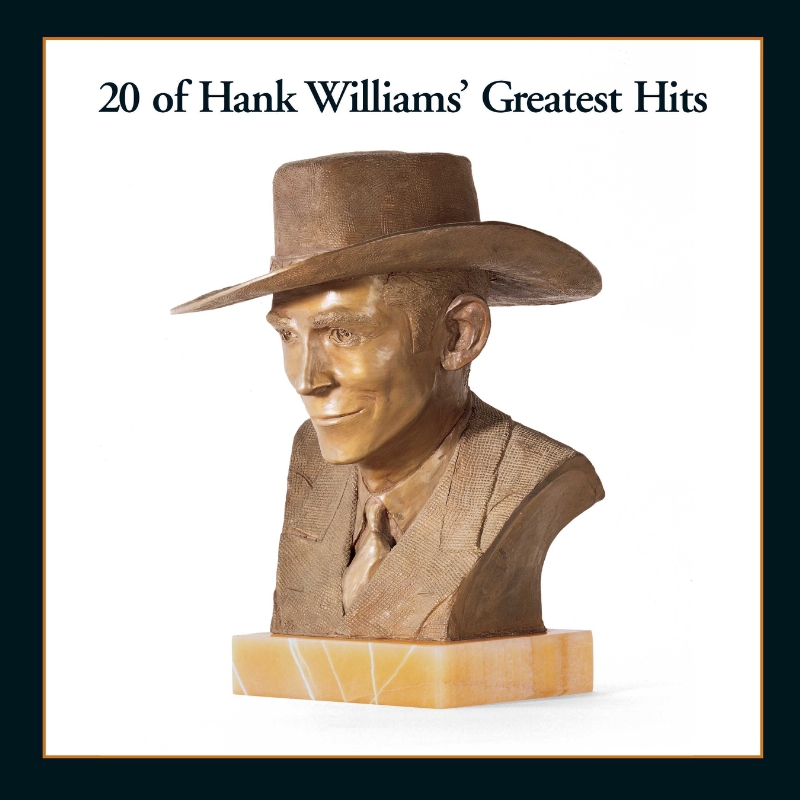 As the father of contemporary country music, Williams stands as country music's most important and unifying figure. While he only released 35 singles in his short six-year career, he became the genre's archetypical figure because of the universality of his songs. These deeply emotional sketches still ring true more than six decades after his death. After all, rich, poor, man, woman, city, country, who hasn't felt the sting of well-deep heartache like Williams does in "Your Cheatin' Heart" and "I'm So Lonesome I Could Cry" or the sad, whiskey-drunk optimism of "Hey, Good Lookin'" and "Baby We're Really in Love"?
He blended blues and country music in a way so satisfying it helped transform a very rural sound into a national one just as post-World War II America was booming and country folk were moving to the cities and suburbs. Williams' influence looms large today in the worlds of rock and country and it's for this reason he belongs to both the Rock and Roll Hall of Fame and the Country Music Hall of Fame as well as the Songwriters Hall Of Fame. In 2010, he was acknowledged as a master songwriter and awarded a posthumous Pulitzer Prize, praising Williams for "his craftsmanship as a songwriter who expressed universal feelings with poignant simplicity and played a pivotal role in transforming country music into a major musical and cultural force in American life."
20 of Hank Williams' Greatest Hits is curated with that legacy in mind, opening with the pedal steel lament of his towering achievement, "Your Cheatin' Heart," a song that transcends time, trends and musical styles. When Williams moans to his soon-to-be ex, "your cheatin' heart will tell on you," his voice is filled with a bone-deep heartbreak most listeners are unfortunately somewhat familiar with. There were lots of songs like this out there but "Your Cheatin' Heart" wasn't covered in the usual polish and veneer of pop music. The words were simple and direct, and the delivery was heart-rending. This was back alley, not Tin Pan Alley, and the heartland responded.
The collection then runs the other direction immediately, jumping to the high-tempo shuffle "Move It On Over" and the other side of Williams' genius, his humor. The title is the song's hook with Williams telling his new roommate to make room after he "came in last night at half past 10, that baby of mine wouldn't let me in." This is Hank the Bad Boy, and the listeners who didn't immediately identify with "Your Cheatin' Heart" probably enjoyed the cad's point of view.
Williams mastered these alternate identities to great effect as a performer, using the high-tempo numbers to drive his always sold-out live shows and radio performances with his Drifting Cowboys. Timeless laments like "I'm So Lonesome I Could Cry" and "Cold, Cold Heart" are balanced with noirish tales of damaged characters on out-of-control journeys like "Ramblin' Man," whose protagonist tells his new love: "I love you, baby, but you gotta understand, when the Lord made me, he made a ramblin' man."
The collection also includes his randy come-on "Hey, Good Lookin'," his first hit, a cover of "Lovesick Blues," "I Can't Help It If I'm Still in Love with You" and "Kaw-Liga," the tale of the heartbroken wooden Indian whose "heart was made of knotty pine."
Individually, each song is a classic. Taken together, the songs on 20 of Hank Williams' Greatest Hits remind us that the diminutive singer with the sad smile and white cowboy hat is one of music history's towering artists.
20 of Hank Williams' Greatest Hits track list:  
Side A
1. Your Cheatin' Heart
2. Move It On Over
3. I'm So Lonesome I Could Cry
4. Ramblin' Man
5. My Heart Would Know
6. Kaw-Liga
7. Cold, Cold Heart
8. Lovesick Blues
9. Honky Tonk Blues
10. Honky Tonkin'
Side B
11. There'll Be No Teardrops Tonight
12. Jambalaya (On the Bayou)
13. Hey Good Lookin'
14. Window Shopping
15. I Can't Help It (If I'm Still in Love with You)
16. Half As Much
17. Why Don't You Love Me
18. You Win Again
19. Baby, We're Really in Love
20. Take These Chains from My Heart
---
Don't forget to follow our Spotify Playlist: