Legendary Michael Jackson HIStory Statue Unveiled
|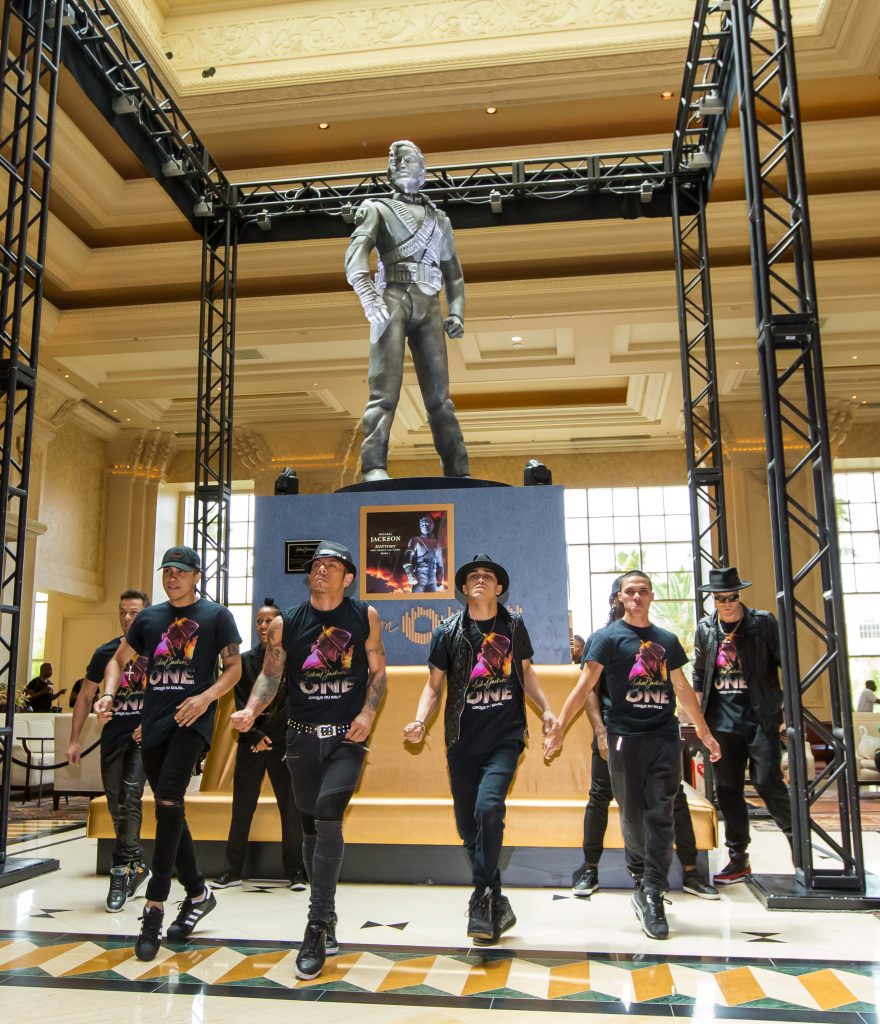 On Thursday, July 28, the Estate of Michael Jackson teamed up with Michael Jackson ONE by Cirque du Soleil and Mandalay Bay to pay tribute to the King of Pop as they unveiled his iconic HIStory Statue. Featured on the cover of his world-famous album HIStory: Past, Present and Future Book 1, which became the best selling multiple disc album worldwide, the HIStory Statue is the third piece of memorabilia to be loaned by the Estate for display on the Mandalay Bay property.
The highly anticipated unveiling ceremony took place in the Main Lobby of Mandalay Bay, where fans had the opportunity to witness the live reveal of this historic sculpture. To welcome the piece, members from the cast of Michael Jackson ONE delivered a never-before-seen performance created especially for this event, dazzling the audience as they performed to "SCREAM," the first single from the HIStory album. Following the performance, fans were able to meet and take photos with those cast members.
"There's a reason why Michael Jackson's spirit still lives on," said Jerry Nadal, Senior Vice President, Resident Shows Division at Cirque du Soleil. "It's the passion and love behind every song he created. It's the soundtrack he delivered to an entire generation and beyond. We certainly see this every night at Michael Jackson ONE as thousands of Michael Jackson, Cirque and music and dance fans of all ages and backgrounds collide to experience their favorite Michael Jackson songs in a new and innovative way. Now, this incredible statue stands with us as a testament to his legacy."
On loan from the Estate of Michael Jackson, the HIStory Statue joins two other pieces at Mandalay Bay: Jackson's red and gold military-style jacket from his appearance at the 1984 American Music Awards and a pair of his iconic black loafers and crystal-encrusted white socks. An additional historical Jackson item will be revealed on Saturday, Aug. 27, kicking off a three-day birthday celebration for the King of Pop inside the ONE Theater.
"Michael Jackson was and always will be an icon of our time," said Darren Davis, Vice President of Entertainment at Mandalay Bay. "We are so thankful that the Estate has been gracious enough to share this statue and all of the other precious Michael Jackson memorabilia with our property. Those who visit Mandalay Bay will have the opportunity to see these amazing pieces, and they are truly extraordinary."
---
Don't forget to follow our Spotify Playlist: