Greg Kofi Brown – Rock' n 'Roll and UFOs
|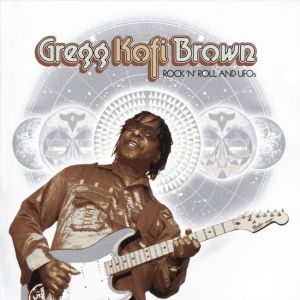 The name Greg Kofi Brown might not be know to most youngsters, however the older Afro-funk-rock fans will recognize his band Osibisa. Osibisa pioneered as a African band in the West with their new 'world music'. A style that has become completely a new genre, with many trendy offshoots. Staying true to form and mix of styles is Brown's 'Rock' n 'Roll and UFOs', an album that perhaps does offer more diversity than many other bands do offer in their entire career!
Brown has been working with the likes of Elton John, Joe Cocker, Eric Burdon (The Animals), Peter Green (Fleetwood Mac), Isaac Hayes, Damon Albarn's Africa Express, Jimmy Cliff, Mory Kante, Sting, Billy Cobham and Des'Ree, to name a few respectfully! On 'Rock' n 'Roll and UFOs' Greg Kofi Brown offers a collection of songs from over the years. Collaborations with Osibisa, Bomb da Bass (known for their hit song 'Winter in July'), Dominic Miller (Sting), Novecento (Billy Cobham, Chaka Khan), Pauling Henry (The Chimes), John Rabbit Bundrick (The Who, Bob Marley), Gus Isidore (Seal, Peter Gabriel) and the entire cast of the musical "Tommy", in which Greg starred in himself. It is a collection of songs, from over the years, they are rarities, not having appeared on other albums. Truly a mix of unreleased songs, remixes and demos with the aforementioned artists. A collection of absolute gems.
A collection through the years is a nice opportunity to get to know Brown. The unplugged 'Tender Eyes' (one of the pieces he recorded with Dominic Miller) to 'Nkosi B', which has become more funk than the 70s have produced, in total. Or the Isicathamiya style in 'Freedom's Ring (Unplugged)' to the PopDance-stuff in 'Shadow'. 'Rock 'n' Roll and UFOs' has become a great mix of styles, perhaps even a too complex mix of styles to be called as a cohesive album. That is the only point of criticism, because the 17 tracks are all worth mentioning, with peaks 'Nkosi B', 'This Guy', 'Take Your Time' and 'Tricky Situation', on where Dominic Miller's guitar peaks.
'Rock 'n' Roll and UFOs' is a surprising album if you like different styles of music. Funk, disco, contemporary rock, world music: and everything in between, surely to be encountered on this one album. Is that annoying? If you just love music it is not, then it's just a wonderful varied album. (7/10) (Gonzo)
---
Don't forget to follow our Spotify Playlist: