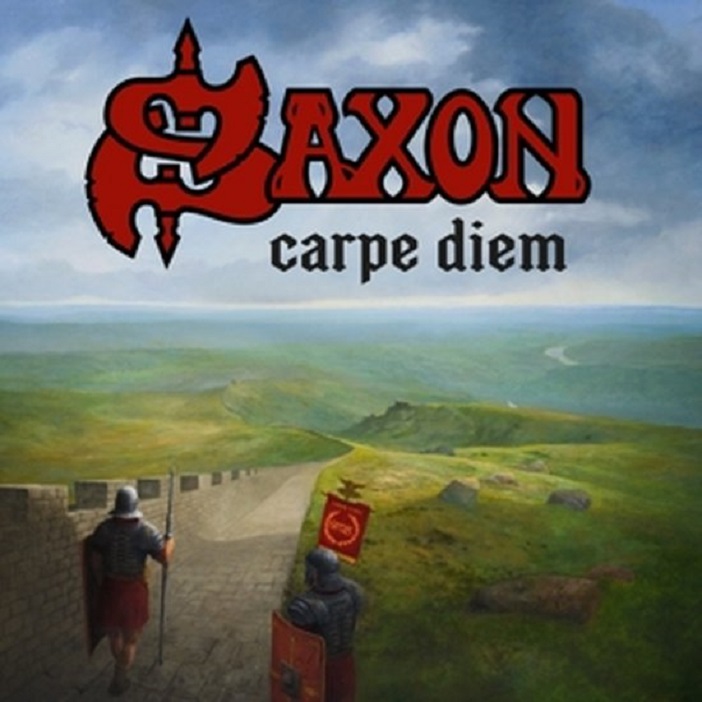 New wave of British heavy metal legends Saxon don't really need an introduction, but for those who don't immediately say something, think of the songs "Princess Of The Night", "Wheels Of Steel" and "Motorcycle Man". A legendary band in the metal genre with a very large catalogue. This new "Carpe Diem" will be the 23rd (!) studio album of the band. Then I don't count predecessor "Inspirations" from early 2020, there are only covers on it.
Their most recent album with their own material is "Thunderbolt" (2018). That was a very strong album and proves that Saxon is far from ready to live on old success or to retire. This puts them in the same row as Judas Priest and Uriah Heep among others. These bands also continue to deliver very strong records late in their career. So expectations are quite high. The first single has now been released: "Carpe Diem" (Seize The Day). Fortunately, it doesn't disappoint me at all. This is also the first track on the album, and that explains the longer intro. What a wonderfully heavy song. The riff is great, the song rocks. Saxon is back!
Speaking of riffs, the whole new album is full of very strong riffs and singer Biff Byford from the beginning also sounds as usual. What can that man do! Also, from the beginning in 1977 guitarist Paul Quinn is still active within the band.
Perhaps you think that the gentlemen, who are now around 70, are taking it a bit easier in their music. The opposite is proven with songs like "Super Nova" and "Dambusters". These are fast, heavy tracks that show why Saxon is still one of the bigger names in the genre. The songs sound energetic, it sounds like the band still has plenty of energy and fun, and the listener also gets a lot of energy from those songs. Sitting still is absolutely not an option. I'm already looking forward to seeing these songs live, where the songs are often played a bit louder. According to Byford, the intensity of the album is partly due to the fact that it was forced to not perform for the well-known reason.
They have already proven that Saxon does not only make fast songs in the past with "Crusader", among others. There is also such an example on this new "Carpe Diem". "The Pilgrimage" is the longest track on the record and provides some peace of mind. Of course, it remains Saxon-worthy, nothing no sugary ballads, but just a kind of ballad with a fat riff and nice solo, at a less stormy tempo.
With this new album, we can only confirm that the Saxon gentlemen are anything but on the decline. After more than 40 years, they still stand their ground, you can hardly help but respect this band. Many other bands from that time have either stopped, are living on old success or are releasing albums, but they are often less noteworthy. Saxon belongs to the small group that continues to release strong records, and they continue that line with "Carpe Diem" ! (9/10) (Silver Lining Music)
---
Don't forget to follow our Spotify Playlist: