Silk Sonic – An evening with Silk Sonic
|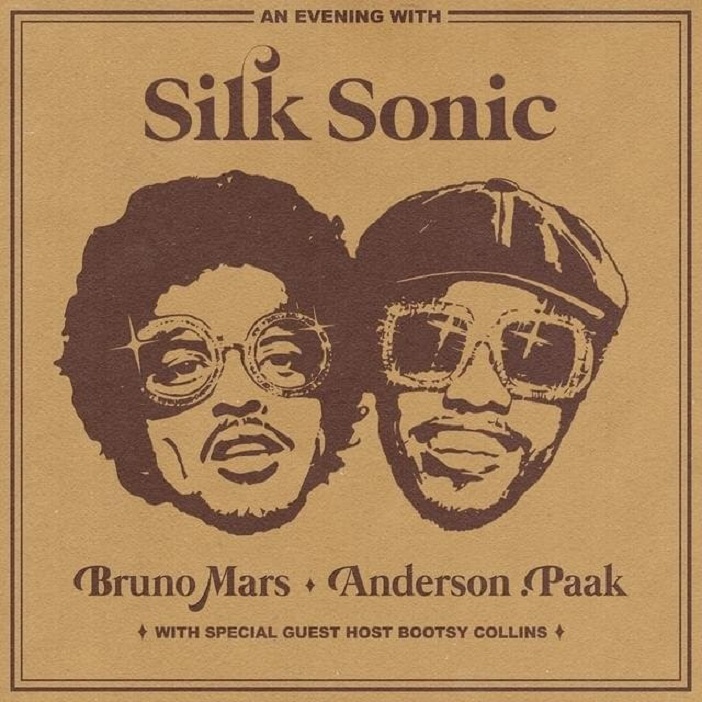 I hate to admit it, but for years I've dismissed Bruno Mars as an uninteresting, commercially motivated bubblegum pop idol with an unhealthy admiration for Michael Jackson. In the meantime, the artist has completely proved me wrong by simply continuing to fire productions at the audience continuously, which have become increasingly high in production and composition- value. In addition, they were also catchy, danceable, of a high earworm level and therefore also extremely commercial. The man has turned out to be a phenomenon that you can't keep denying, even if you wanted to, which I don't want to either.
Now Mars has released the album "An evening with Silk Sonic", together with Anderson .Paak under the name Silk Sonic. This will be the provisional crown on his career. What a great album this turned out to be. As retro as retro can be, the duo catapults us back to the heyday of soul in 9 tracks. Some songs are even better than others. Not only as a composition, but also in the arrangements and especially in the vocal performances, this is a 'stellar' performance.
Anderson .Paak, also known as 'Cheeky Andy' is an above average talented singer, rapper, composer, drummer and producer from California who performed as a support act on the Bruno Mars shows in the "24K Magic" shows in 2017 . A proverbial spark has jumped so that they decided together to take on this Silk Sonic project. It is clear that there is synergy here. One plus one equals much more than two in the case of Mars and .Paak.
As mentioned, the album contains 9 songs, together just over half an hour, but what half an hour this is. Let Pfizer stop investigating. The best medicine for corona stress is this half-hour therapy. Be enchanted by the nice and fat arrangements, full of violins, glockenspiel, funky guitar riffs, congas, fat P-Funk bass lines.
A song like "Put on a smile" that immediately takes you back in the first bars to the times when Marvin Gaye's "Whats going on" amazed the world. Vocal perfection on a bed of violins, backing vocals and an irresistible groove. Heaven on earth.
"Fly as me", in which .Paak's drums lay down a James Brown funk foundation that you can't possibly sit still to . It's wonderful how you can sing so loosely on such a tight groove. "777" is a like purple corduroy suit just witing to be worn . Sitting still is just not an option. No way.
If I can call an absolute highlight on the album, it is "Skate". Think of the best Philly sound you've heard since the seventies, combined with a heavenly melody, sung by two perfectly matched voices. I'm going to look for my disco lights in the attic. Those three lamps with built-in microphones that every music lover had in their room 40 years ago. I'm sure they're still out there somewhere.
In short, with "An evening with Silk Sonic", .Paak and Mars deliver one of the very best albums of 2021. Certainly in this genre nothing even comes close. This album is the best remedy you can buy against the corona blues, with this in the CD player or on the turntable we can easily get through three more lockdowns. (9/10) (Aftermath/Atlantic)
---
Don't forget to follow our Spotify Playlist: