Kayak – Out of this World
|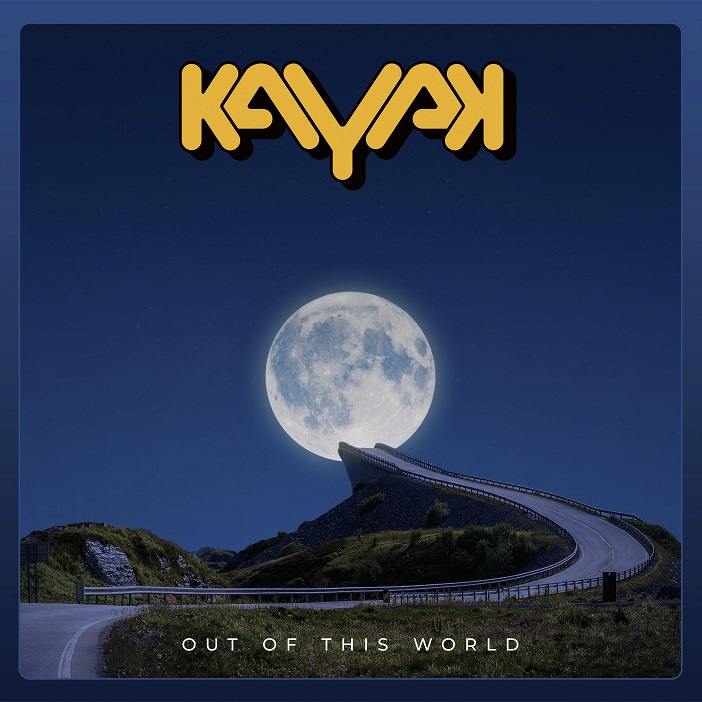 On Friday, May 7, Kayak will release their new album entitled "Out of this World." After 'Seventeen' (2017), the new album is a continuation of Kayak in the new line-up. While during the recordings for 'Seventeen' the band was still looking for their definitive line up with session drummer Lean Robbemont behind the kit and Ton Scherpenzeel himself, who played almost all bass parts in addition to keyboards, the line up is now completely crystallized and fell into place.
Besides founding father Ton Scherpenzeel, who founded the band almost 50 years ago, Kayak in 2021 consists of Bart Schwertmann on vocals, Marcel Singor on guitar and vocals, Kristoffer Gildenlöw on bass and vocals and Hans Eijkenaar on drums.
"Out of this World" contains no less than 15 tracks and together these will take the listener on a more than an hour long adventurous journey, crossing the Kayak universe. The album is very diverse and ranges from the epic, classically inspired and elaborate prog rock of the title track to Kayak's very poppy sounding "Waiting", sung by guitarist Singor. Listen twice and you're sold as well. Guaranteed that it will be a topper at the live shows as you can hear the audience participate.
In February, with the release of "Mystery", some of the veil was lifted around the new Kayak. Instant recognition here. A top track, in style somewhat comparable to "Somebody" on the previous album. Wonderful showcase for the voice of Schwertmann who on this new album puts an end to the eternal comparison with previous singers.
What is particularly striking is how Kayak has managed to create an enormously recognizable and solid band sound quickly. With this line up, the result is clearly more than the sum of its parts. Each and every one of these musicians has an impressive track record, but under the wings of Kayak, a synergy that you rarely hear is released in these men.
Singor is, next to Schwertmann, very decisive for Kayak's sound. The man is a master guitarist who fortunately does not shy away from experimenting. At times a May'esque wind blows through his playing, evoking memories of the Queen guitarist's playing during the "Sheer Heart Attack" period. The comparison is but a doomed attempt to characterize the game of men. Anyone who has seen him play live with Kayak or, for example, at Ayreon live shows, knows that Singor is one of the best in the world.
The entire album is a very diverse amalgam of the most beautiful compositions, and these are mainly due to the godfather of Dutch progressive rock music. The maestro Scherpenzeel may have started his fourth youth by now, but if you compose such beautiful music then we can all only hope that the man can continue with this for another 50 years.
"Out of this World" has become a majestic album that shows a band that takes and is given the freedom to excel on beautiful compositions. Highlights are the epic prog rockers "Out of this world" and "Critical Mass". Kayak teaches how prog rock will still matter in 2021. "Red Rage to a Bull" can be added to the essentials playlist for Kayak enthusiasts. "Distance to your Heart" a beautiful song with head and tail, forged according to the laws of Lennon / McCartney. Beautifully arranged. The whole album exudes love for music.
"Out of This World" is one of the best albums released in recent years and without a doubt deserves the title "masterpiece". A ten can only be earned through the public's appreciation when an album is released. Whether an album will last and become as popular as it deserves to be, we can only say in three years' time. In any case, Kayak has done everything and more about it. So the album will be rated with a very hard 9 out of ten and will be declared to be a masterpiece. (9/10) (Inside Out Music)
---
Don't forget to follow our Spotify Playlist: