Gary Barlow – The Dream Of Christmas
|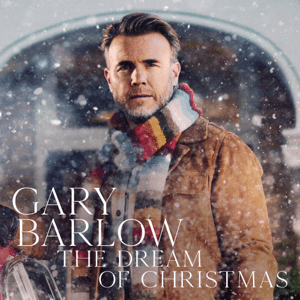 New music is here for the Christmas holidays. Gary Barlow released his very first Christmas album "The Dream Of Christmas". It's the sixth studio album from the charismatic Take That front man and in addition to various covers, the album also includes some original Christmas songs composed by Gary himself.
The demand and need for a Christmas album by Gary has been present in Gary Barlow's fanbase for a number of years. So to the fans surprise in 2020 "Incredible Christmas" was added to an extended version of his fifth album "Music Played By Humans". If you dig a bit deeper in time and on the all known archive called Youtube, you will find Gary's entry "Let's Pray For Christmas" for a 1986 BBC Christmas song contest as a fifteen-year-old.
During the Corona pandemic in 2020, Gary started composing his own original Christmas songs for "The Dream Of Christmas". The duet "How Christmas Is Supposed To Be", with actress and singer Sheridan Smith, is one of the highlights of this album. Not only the lyrics, but also the vocals are on point on this nice track, in which the voices of Gary and Sheridan merge together perfectly. The track 'Christmas Sweater' added to the deluxe edition of this album, is also definitely worth listening to, it sounds cheerful and catchy.
Gary's version of "Winter Wonderland" has a nice jazzy sound and with the vocal support of The Puppini Sisters this classic gets something extra to it. This almost swing-like sound suits Gary very well and it sounds very familiar.
The normal version of "The Dream Of Christmas" is a bit short with 32 minutes of playing time, but with the 5 bonus tracks extended deluxe edition the 48 minutes of playing time is easily achieved and really nice to listen to. The good mix of Christmas songs composed by Gary Barlow and the contemporary covers result in a very nice Christmas album. A real must for Gary Barlow- and Take That fans, but also for people who love Christmas music. (9/10) (Polydor)
Tracklist: Gary Barlow – The Dream of Christmas
Standard
The Dream of Christmas
Sleigh Ride
Wonderful Christmastime
How Christmas Is Supposed To Be (feat Sheridan Smith)
This Christmas
Come On Christmas
My Dear Acquaintance
Winter Wonderland (feat. Puppini Sisters)
The Colder It Feels (feat Sheku Kanneh-Mason)
Merry Christmas Everyone
A Child's Christmas in Wales (feat. Aled Jones)
Deluxe
The Dream of Christmas
Sleigh Ride
Wonderful Christmastime
How Christmas Is Supposed To Be (feat Sheridan Smith)
This Christmas
Come On Christmas
My Dear Acquaintance
Winter Wonderland (feat. Puppini Sisters)
The Colder It Feels (feat Sheku Kanneh-Mason)
Merry Christmas Everyone
A Child's Christmas in Wales (feat. Aled Jones)
I've Got My Love To Keep Me Warm
I Believe in Father Christmas
In The Bleak Midwinter
The Most Wonderful Time Of The Year
---
Don't forget to follow our Spotify Playlist: