Alcatraz imports Dutch Circus Herman Renz to Courtrai
|
In the bankruptcy of the Dutch National Circus Herman Renz, 65 people lost their jobs. A very sad thing, not only for the individuals but also for the management that tried everything to save their business. Unfortunately the bankruptcy could not be averted and the property of the circus were auctioned. The management had only one wish: they wanted the goods ended up in the right hands and preferably still with industry peers. Through a public auction on May 10th Alcatraz brought several bids including twice as the highest bidder on both circus tents.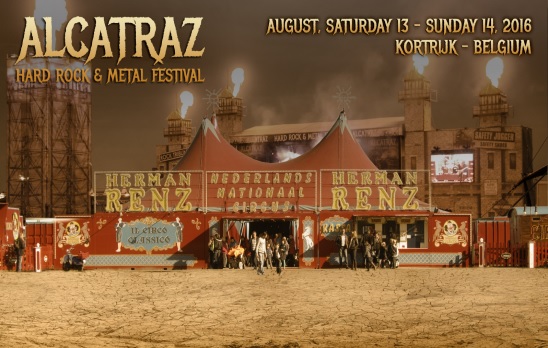 Of course Alcatraz has nothing in common with a circus, however occasionally they are inviting some clownesque acts during the festival or at club shows. Think about the jokers from Avatar, the monsters of Lordi, etc. The former owners of the circus can sleep on both ears because Alcatraz believes the purchase will be an added value to the festival. They will make every necessary effort to integrate both tents into the well-known concept of Alcatraz. The festival is working hard to create atmosphere and comfort. Both circus tents are an excellent way to increase a more pleasant atmosphere and to further optimize the comfort of the festival goer.
There was also a certain degree of nostalgia at the purchase. Circus Renz has a long history and Alcatraz has a lot of respect for them, so the tents will be taken care off and well maintained. And also the link with the Netherlands is not disappearing as the creative team of the Dutch Paaspop Festival would take care of the concept and décor for one of the tents. Regarding this matter there are extensive conversations going on…to be continued!
---
Don't forget to follow our Spotify Playlist: