The Police legend Andy Summers and Rob Giles form Circa Zero
|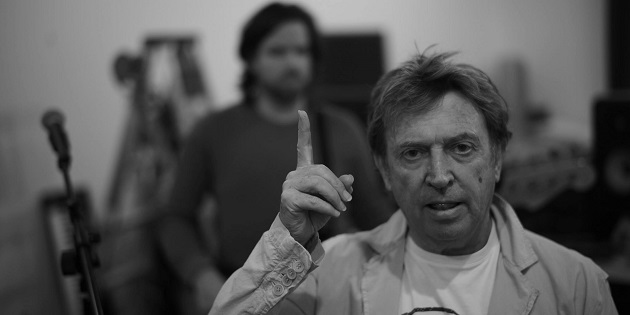 Legendary guitarist with The Police, fiercely iconoclastic composer and songwriter Andy Summers has teamed up with singer songwriter/multi-instrumentalist Rob Giles (The Rescues) to form Circa Zero — a band poised to blow people away with its unique brand of rock and roll intensity. Taking full advantage of an immediate musical chemistry, Circa Zero recorded their debut album Circus Hero at Summers' studio Bowl of Cherries in Venice, CA and signed a worldwide deal with 429 Records. Produced by Summers and Giles, Circus Hero is an exhilarating musical ride created by musicians dead set on launching a long term vibrant endeavor. 429 Records will release Circus Hero worldwide on March 25 th. The band will perform at South by Southwest music festival (Universal Music showcase and others TBA). In addition, Andy Summers' new documentary "Can't Stand Losing You: Life After The Police" will be released in theaters this summer.
Fresh off of The Police reunion tour, Summers was intent on remaining in the rock world after years of pushing the boundaries with his solo projects. The two-time Grammy winner and Rock and Roll Hall of Famer was energized to record again and his search for a musical cohort ended when he discovered Rob Giles performing with his band The Rescues at the Troubadour. Circa Zero is an exciting new chapter for both of them—the name referring to starting with a blank musical slate to create a wholly unique sound, a sound with few if any ties to the past.
Says Summers: "From the start, we were on the same team going all the same places together. That kind of feeling is very rare. I had it with Sting but there's been no one else since then, so it's very magical when it happens. This is that thing."
Says Giles: "It's an uncatagorizable rock record built around great songs that we are both extremely proud of."
The documentary film "Can't Stand Losing You: Surviving the Police," is based on Andy Summer's acclaimed memoir, "One Train Later", and will be released this summer with a theatrical release scheduled for late July. The film, directed by Andy Grieve who recently edited The Armstrong Lie and We Steal Secrets: The Story of WikiLeaks, follows Summers' musical journey from his early days in the London music scene to his chance encounter with drummer Stewart Copeland and bassist Sting. Utilizing rare archival footage and photographs shot by Summers, the filmmakers catch up with the band members thirty years after the group broke up as they reunite for the highly anticipated reunion tour, weaving together the past and present to explore a life devoted to music. The film will be distributed in North America by Cinema Libre Studio.
Circus Hero Track Listing:
1) Levitation
2) Underground
3) The Story Ends Here
4) Say Goodnight
5) Gamma Ray
6) Night Time Travelers
7) Shoot Out The Stars
8) Underwater
9) Summer Lies
10) No Highway
11) Light The Fuse & Run
12) Whenever You Hear The Rain
13) Hot Camel
---
Don't forget to follow our Spotify Playlist: