Jesters of Destiny to rerelease Fun at the Funeral LP
|
According to Wikipedia and Allmusic.com (and even a Creem Metal interview from the band's own time), Jesters of Destiny were quite possibly the first 'Alternative Metal' band. If you were to ask the band's founders (and only consistent members throughout their four-year duration—Ray Violet and Bruce Duff), they would no doubt reply with a question: "What exactly is Alternative Metal, anyway?"
Such concerns were not on the minds of Violet and Duff, when in 1984, they were in the midst of a recording project attempting to come up commercial (as in jingles) material. Violet was the staff engineer at Dawnbreaker studio (built by Seals and Crofts during their heyday a decade earlier, and ran at the time by their ex-manager, a figure in the Bahai Faith). Church members occupied the studio compound, but during the day, it was rented out by Leon Sylvers (producing contemporary R&B with Violet at the board) and at night, Ray, Bruce and friends had free rein of the place to make whatever music they wanted.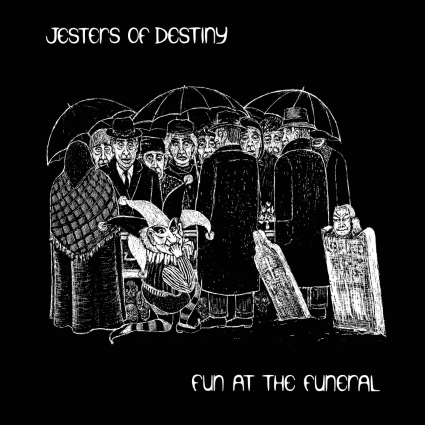 Among the music they recorded were two songs that seemed to hang together: "End of Time" and "Diggin' That Grave." "Grave" was a riff, groove and lyrical idea Ray had been kicking back and forth with Bruce for some time—at Dawnbreaker, it came fully to life; and "Time" was a heavy prog number Bruce wanted to flesh out while the studio was at hand. The two musicians decided that these two songs had zero commercial potential for their jingle project, but belonged together nonetheless, and with that as a template, Ray and Bruce decided to form a band. Jesters of Destiny were soon rehearsing in the full-court basketball facility next door to the studio in the Dawnbreaker compound.
By fall of '84, "End of Time" appeared on Metal Massacre V, part of an ongoing series used by Metal Blade Records to introduce new bands to an international fanbase. Also on board with their early recordings were Voivod, Overkill, Fates Warning, Metal Church, and Hellhammer, (before they turned into Celtic Frost). A look at this lineup shows the Jesters weren't alone in thinking it was time metal ventured outside the safety zone.
During '85, Jesters of Destiny began to perform in clubs around Los Angeles and Orange County, and weathering what would be an unending series of lineup changes around Bruce on vocals/bass and Ray on guitar/keys. (Five drummers and five lead guitarists went through the ranks). Throughout the year, and amidst the first several lineup changes, the pair recorded Fun at the Funeral.
With completed masters in tow, Metal Blade was approached, as they'd already issued "End of Time." They liked the album and agreed to put it out, but perhaps as a nod to the band's alternative take on heavy music, decided to put the LP out on a brand-new imprint, Dimension Records. Not only did this indicate that Fun wasn't a typical heavy record, but also avoided the outrage the standard Metal Blade aficionado would experience when a pop song like "Happy Times" or an instrumental interlude like "Love Theme from Jesters on Parade" would pop up.
Released in 1986, Fun at the Funeral received a wide range of critical appraisal. From the press reviews, back in the day…
Spin: "Perfectly executed punkadelic glam-bop with a healthy dose of metallic insolence. Working within this context, the Jesters thumb their noses at insanity, aphrodisiacs, Pollyanna grooviness and the occasional suicide."
L.A.Weekly: "Modern metal psychedelia whose deranged outlook is fine-tuned by way of nods to such opposing influences a Black Sabbath and the Electric Prunes."
Guitar Player: "Magnificently wacky and roots-true…definitely a cut apart from any other '80s band."
Kerrang: "Delightfully different…(a) mysterious mixture of musical influences from a number of bands you just can't think of. Weird, but strangely appealing. 4Ks for…I don't quite know what."
And of course, the definitive statement, from Rockpool: "It is, quite honestly, the worst record I've heard all year."
The band continued to shift drummers and guitarist in and out of the lineup, and during the promotional life of the album shared stages with Jane's Addiction, the Dickies, Flaming Lips, L.A. Guns, Jetboy, the Fuzztones, and Thelonious Monster, demonstrating both how wide the Jesters' style could venture, and how diverse the California scene was at the time. Nowadays, most histories boil Cali hard rock down to the emerging thrash scene growing out of Ruthie's Inn in Berkeley, and the hair metal coming out of the Hollywood clubs such as Gazzarri's. (Of course, the Jesters played both).
With not quite enough songs written for the second album, the Jesters opted to record an all-covers EP as a follow-up. In a Nostalgic Mood was met with perhaps even more confusion that Fun at the Funeral. For their '87 year-end summation, Kerrang declared the Jesters version of Sabbath's "Electric Funeral" to be the 4th best cover of the year, and their version of Hendrix's "Foxey Lady" to be the 4th worst.
By '88, Metal Blade dropped JOD. Enough labels passed on the demos for the by-now-written album No Laughing Matter that the band chose to quietly throw in the towel. Of course, the story doesn't end there – why else would you have this bio? In 2001, Ektro Records in Finland reissued Fun at the Funeral with a load of bonus material, including a number of the No Laughing Matter demos. In 2012, Full Contact issued a single featuring Ektro's most prolific artists, Circle, performing two FATF songs, "End of Time" and "God Told Me To," with Bruce and Ray both onboard. Now, Ektro/Full Contact is issuing a near-exact replica of the original vinyl album, with the expected improved mastering and better graphics reproductions. Meanwhile, Bruce and Ray have returned to the studio to work on a brand-new album of Jesters of Destiny material. Has the world caught up? Will the Jesters be more easily understood in 2014? Most likely not.
---
Don't forget to follow our Spotify Playlist: