The history of Albany Down explained…
|
Albany Down was formed in 2007. Guitar player Paul Turley is the only one who is in the band from the beginning. Albany Down was the name of an old band from Paul Turley. He was the only member left of that band. And because the new band needed a name they picked Albany Down, for no more reason than that a band needs a name. We've had the privilege te talk to the band.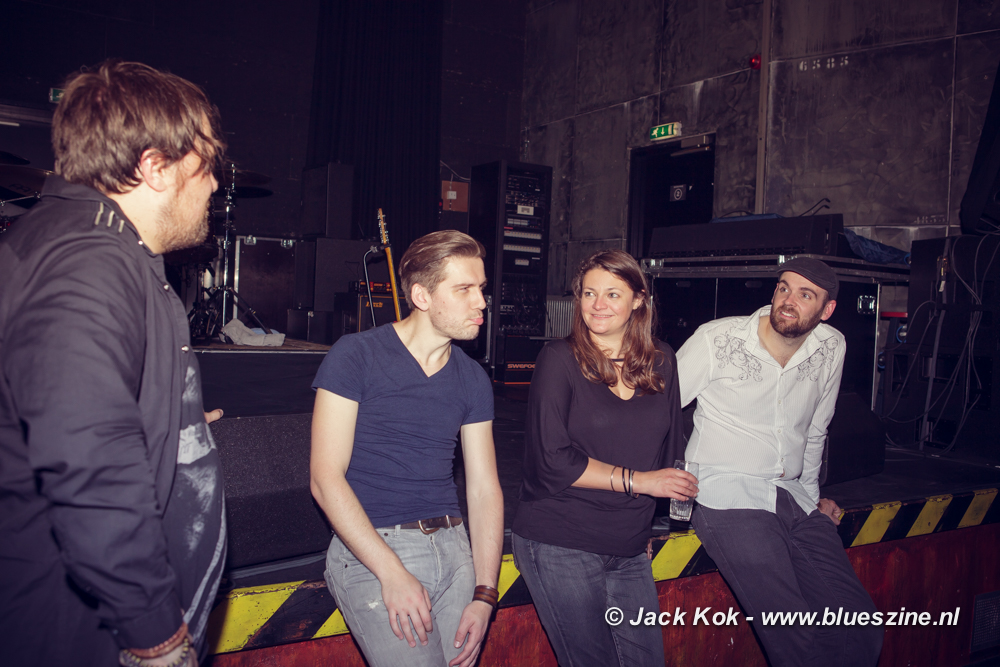 Singer Paul Muir and bass player Billy Dedman joined in 2007. Billy a few days before New Year's Eve, even though they never met before. The Albany Down men and Donna Peters were Facebook friends before she joined the band late 2013. "The men asked me: ''Do you know a good drummer?''", Donna says. They knew she was a drum teacher, but they thought it was for five year old children, as they had never seen her drumming. So Donna had to do audition and although Albany Down was already a team, it wasn't difficult for Donna to jump in, because they all like to play the same kind of music. "I am is a self taught drummer. Music was important in my childhood. my sister got a drumkit as a birthday present and so i had to give it a try." Donna now is able to make a living as she is a freelance live and studio drummer, and as said before a drum teacher.
Albany Down is influenced by a lot of bands. "Muse, Cream, Foo Fighters, Aerosmith, Led Zeppelin", all kinds of names are being named. "We all like a lot of bands, not only rockbands" Paul Turley says, "We love R&B, soul, and some heavy music. As long as the singing is singing, not screaming. No death metal for Albany Down." "Oh and Pink Floyd", Donna adds. Paul Muir launches "and I do love Taylor Swift!"
A new album
The process of writing a song usually starts with a riff or something. "We all bring our own suggestions. Everyone adds something to this process. Like Paul Muir needs to feel the music before he starts writing the lyrics. Sometimes he asks: "Can you do this or that in the music, so that lyrics and music will be in balance?'' Usually this is a slow process. However, sometimes it takes only five minutes. It can also take five months to complete a song.", Paul Turley explains.
Every now and then, Paul Muir worries about the lyrics, even one or two days before recording. "This is a bit stressful. However a deadline can bring the best out of you.", he tells and the band agrees. "Sometimes we make some last minute changes. We never regret a change. One time when Albany Down was in the studio, the producer came up with an idea. We changed the whole section, not only the lyrics."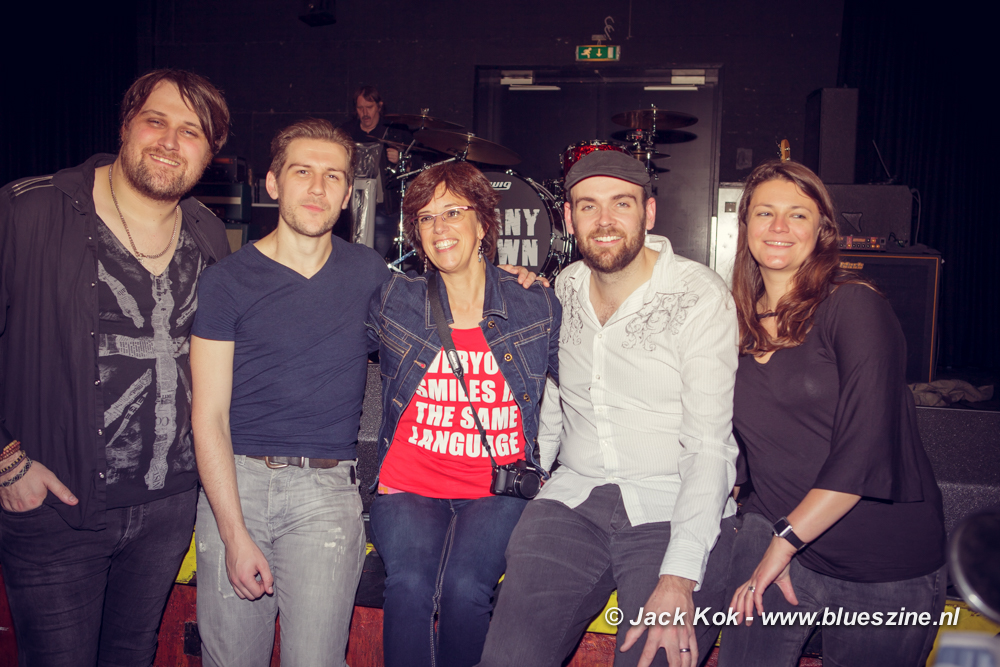 A new album is coming up this year and seven songs are already recorded. Albany Down will record about four or five songs later. Some new songs were already played during a gig. Some of those were a bit more 'heavy' rock. And there will be some more 'heavy' rock on the new album. "We are not sure yet about the title of the album", Paul Turley confirms, "Of course, there are some ideas. Impossible to sing them around as they can't be revealed yet. Albany Down might use social networks for it." The band is not exactly sure how yet, perhaps a Facebook voting or something like that will come up…. who knows…
Social media and more
There are not to many illegal downloads for Albany Down's albums. "We sometimes see an illegal download site from Russia",  Paul Muir says with a grin on his face, "We are glad to see our name in Russia. So no negative stuff from social networks. The advantages are for example iTunes and Amazon. People from all over the world are able to buy our CDs without the costs/problems of sending and shipping."
Every now and then Albany Down likes to play a cover. 'Mercy' from their first album for example is a cover from Duffy. During their performance they played Zeppelin's Rock and Roll. "Perhaps we will cover Queen some day.", Donna says, but Paul Muir would love to cover a Taylor Swift song of course.
Both Pauls, Billy and Donna are close friends. In spite of their differences there are no quarrels or disagreements. Paul Muir is not an early bird. "He always is the latest. When the alarm clock rings, he always says: "Five more minutes." And five minutes later: "Five more minutes…" and so on", Paul Turley laughs, "Paul Muir is always running late. "A glass of cold water might help you wake up", I suggested." "That's how my mum used to wake me up.", Paul Muir replied with a laughter. "Well Paul, if you wake up tomorrow with a splash of cold water in your face, you can blame me for mentioning it.", Paul Turley finishes.
Albay Down likes to perform in the Netherlands. "We would love to play at Bospop Festival. The line up for 2016 is completed, so hopefully in 2017." The band agrees at the end… let's hope so…
---
Don't forget to follow our Spotify Playlist: