Boys Noize announces 4th studio album 'Mayday'
|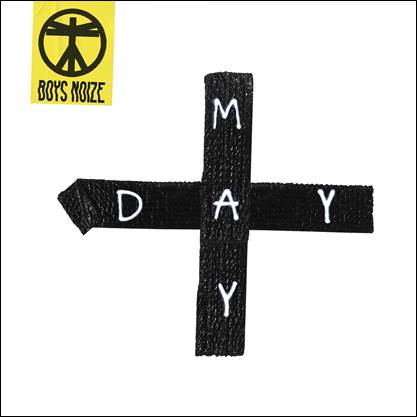 He's the techno punk, the unboxable nomad: Berlin DJ and producer Boys Noize will release his 4th solo album 'Mayday' on May 20, 2016 via Boysnoize Records. The third track off the new album, 'Starchild', features Channy Leaneagh of Poliça, and has been chosen as the world record by Zane Lowe on his Beats 1 show today. Earlier, "Overthrow" and "Euphoria" ft Remy Banks were revealed from the upcoming release 'Mayday'.
Alex Ridha, better known as Boys Noize, made his DJ debut at the age of 15, taking a teenager´s love of house and techno to a global scale. Accolades have been bestowed by Rolling Stone, who named him one of the "Top 10 DJ's Who Rule The World" and Beatport, who elected him "Best Electronic Act" 3 years in a row. He´s rocked the world's biggest stages, lit up Coachella three times, took Lollapalooza by storm, and headlined festivals and clubs on every continent – from Berlin techno temple Berghain to Fuji Rock in Japan to Justin Vernon's Eaux Claires Festival in the woods of Wisconsin.
As an artist and producer, Ridha has created a sound and a vision that's peerless, uncompromising, and enduring – respected in the scene, banging from underground to mainstream, it flies in the face of convention at every turn. He's remixed Depeche Mode, Daft Punk, David Lynch, Feist and Nine Inch Nails, collaborated with Snoop Dogg, Erol Alkan, and Jarvis Cocker, worked on Mark Ronson's "Uptown Special" and most recently on the soundtrack for upcoming Oliver Stone's Snowden, and released group projects with genius pianist Chilly Gonzales (Octave Minds), Skrillex (Dog Blood), and Mr. Oizo (Handbraekes). The list of names alone speak volumes about Ridha's multifaceted approach.
Now Boys Noize is back with 'Mayday', his most dynamic album to date. Infectiously energetic, fusing the energy and spirit of punk with the raw power of modern techno and the early days of rave, 'Mayday' exists as a new expression entirely, transporting the innocence of a bygone era into the here and now without ever sounding anachronistic or nostalgic.
Collaborations with Poliça, Hudson Mohawke, Benga, Remy Banks, Spaink Rock, and some special secret guests (the liner notes are worth a read) broaden the range further than ever. "I always try to challenge myself as a producer and a musician," says Ridha. "Keeping the purity of electronic music but taking it somewhere new is the most difficult, and most motivating. 'Mayday' is me taking the music I love to the future, no matter how uncertain the future seems."
'Mayday' speaks for a generation that no longer gives a damn about boundaries. Walls are for breaking down. Mayday's for tearing them to shreds.
Boys Noize will premiere his new show at Sonar, Barcelona, on June 18. Ridha conceived the spectacle together with visual artists Sus Boy and Lil Internet, exploring a thematic narrative inspired by cyberpunk, 80's industrial and surveillance in contemporary society.
---
Don't forget to follow our Spotify Playlist: