The Ready set premiere news single and music video for "Disappearing Act"
|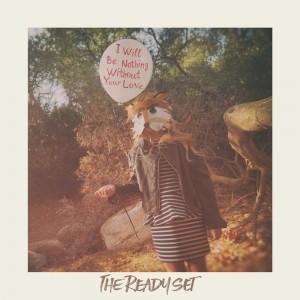 Electro-pop act, The Ready Set, has teamed up with Kick Kick Snare to premiere their new single, "Disappearing Act". "Disappearing Act" is the second single off The Ready Set's upcoming album, I Will Be Nothing Without Your Love, out April 8, 2016 via Hopeless Records. Check out the video for The Ready Set's recent single, "Good Enough", here. The new album is now available to pre-order on iTunes, which includes a free instant download of "Good Enough".
"This is one of my favorite videos I've done," shares Jordan Witzigreuter of The Ready Set, in reference to "Disappearing Act". "I wanted to do something bright and colorful that didn't feel conventional, and it came together really well with the girls and our great hair and makeup team we had. The style of it is meant to be very minimalistic, and conceptually I wanted all of these bright things to be slowly whited out, disappearing into the background."
Jordan Witzigreuter was only 20 years old when nearly overnight, the young Indiana-born musician – who had spent the better part of his teens writing an arsenal of illegally catchy, electro-pop songs – was plucked from near obscurity and thrust into the spotlight. Six years have passed since the release of The Ready Set's debut album, I'm Alive, I'm Dreaming, which hit No. 3 on Billboard's Heatseakers chart, thanks to the platinum-selling success of the LP's first single, "Love Like Woe. 2011 saw the release of The Ready Set's sophomore album Feel Good Now and the hit song "Young Forever." The band's most recent album, 2014's The Bad & The Better, charted at #75 on the Billboard 200. The Ready Set has toured with The Wanted, Carly Rae Jepsen, Cher Loyd, Breathe Carolina, We The Kings, and more.
Album Track Listing:
1. Disappearing Act
2. Being Afraid
3. Good Enough
4. Concrete
5. I Will Be Nothing Without Your Love
6. Run With Me
7. Should We Go Downtown
8. Swim
9. No Love (feat. Ansley Newman)
10. First
11. Fire In The Sky
12. See You
---
Don't forget to follow our Spotify Playlist: