Joe Bonamassa evolves as Blues-Rock musician with new album 'Blues of Desperation'
|
GRAMMY-nominated blues-rock guitar icon Joe Bonamassa announces today his brand-new studio solo album, Blues Of Desperation (Provogue), will be released March 25, 2016. Like his previous solo disc, 2014's Top 10 Billboard hit Different Shades of Blue, this record features all-original material, and it sees the maverick superstar guitarist, singer and songwriter tossing away the rule book as he continues to reinvent and redefine the blues-rock genre like no other artist working today. "I want people to hear my evolution as a blues-rock musician," says Bonamassa, "somebody who isn't resting on accomplishments and who is always pushing forward and thinking about how music can evolve and stay relevant."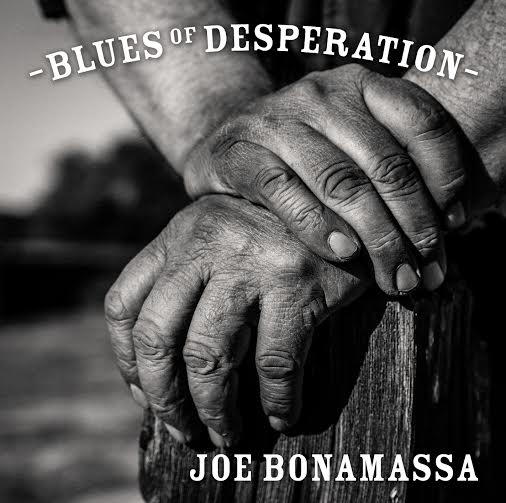 The writing sessions for Blues Of Desperation took Bonamassa back to Nashville, where he'd composed Different Shades of Blue, to work with some of Music City's top tunesmiths, people like James House, Tom Hambridge, Jeffrey Steele, Jerry Flowers and Gary Nicholson. "These are some of the best guys in the business," Bonamassa raves. "Lyrically, you'll hear the proverbial trains, mountains, valleys and other blues references about heartbreak and loneliness, but there are also some poignant moments about getting away from the stressful, crazy demands of life and losing yourself with your special someone. I think anybody will be able to relate."
Bonamassa and his longtime producer Kevin Shirley (Led Zeppelin, Iron Maiden, Journey) convened at Nashville's Grand Victor Sound Studios (formerly known as RCA Studio A), and during an intense, five-day period they recorded 11 galvanizing songs with a crack group of musicians including drummers Anton Fig and Greg Morrow, bassist Michael Rhodes, keyboardist Reese Wynans, horn players Lee Thornburg, Paulie Cerra and Mark Douthit, and background singers Mahalia Barnes, Jade McRae and Juanita Tippins.
Of his decade-long collaboration with Shirley, Bonamassa says, "I can explain our relationship with one word – 'trust.' I completely trust in Kevin and his musical promptings. He pushes my musical ability by challenging me to not just rest on my laurels or settle for 'good.' He expects more out of the other musicians as well and will not hold back when he sees us falling back into our usual routine."
"Which sometimes calls for unorthodox measures", says Shirley, who admits that his idea of augmenting Bonamassa's usual recording band with second drummer Morrow was engineered to "ruffle Joe's feathers." "I wanted him to work a little harder, like in his early years," he says, "so I brought in an additional drummer, just to throw the cat amongst the pigeons." Of the results, Shirley raves, "Recording Blues Of Desperation is one of the most exciting recording projects I've done. What a joyful noise we made!"
Blues of Desperation is Bonamassa's most powerfully diverse and boldly realized album yet, with the material ranging from the gutsy, gritty blues call to arms of "This Train" (Joe's guitar is set to "rude" throughout) to the elegant yet emotionally shattering ballad "What I've Known For A Very Long Time" to the soul-nourishing, acoustic-based Americana of "The Valley Runs Low," on which Bonamassa's voice rises up majestically to meet Barnes, McRae and Tippins in gospel-like rapture. And then there's the bleary, tequila-soaked "Drive," dripping with the kind of raw, wicked and unsettling sensuality that could make David Lynch go green with envy.
Throughout the record, Bonamassa's epic guitar playing conjures up stirring benedictions and explosive exorcisms of sound. "No Good Place For The Lonely" features some of the guitarist's most cauterizing licks yet, and the walloping title track is a white-knuckled, six-string thrill ride guaranteed to jolt the senses. Guitar fans everywhere (like those who recently voted Bonamassa "Best Blues Guitarist" in Guitar World magazine by an overwhelming margin) will consider Blues of Desperation a treasure trove of axe richess.
"There are some long solos on this record and even some mini-jams in the middle of a track where the band would just jive and crank it out," he says. "[During those jams], we do a tip of the hat to Beck and Clapton from the '70s. I think guitar nerds and music fans like myself will love it."
Packed with unparalleled musicianship and teaming with the most enthralling collection of songs in Bonamassa's career, Blues Of Desperation is guaranteed to knock out critics and fans alike. By exceeding his own vertiginously high artistic goals, Bonamassa is bound to shatter all other expectations with this record and reach new audiences – no mean feat when you continue his astonishing track record of hits now includes 15 #1 Billboard Blues Albums (more than any other artist in history). 2014's Different Shades of Blue debuted at #8 on Billboard's Top 200 Chart, making it his highest charting album, his first top 10 and accounting for his biggest sales week ever. In 2014, the guitarist received his first-ever Grammy nomination (for Best Blues Album) for the album Seesaw, his second collaboration with blues singing star Beth Hart, and was named 2014's Billboard Blues Artist of the Year.
Track list
1. This Train
2. Mountain Climbing
3. Drive
4. No Good Place For The Lonely
5. Blues Of Desperation
6. The Valley Runs Low
7. You Left Me Nothin' But The Bill And The Blues
8. Distant Lonesome Train
9. How Deep This River Runs
10. Livin' Easy
11. What I've Known For A Very Long Time
---
Don't forget to follow our Spotify Playlist: