Volbeat back with tour edition of hitalbum
|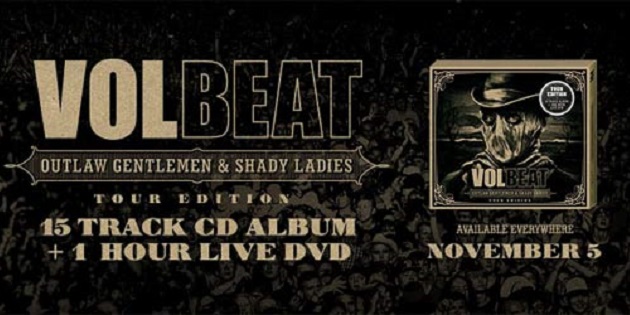 Volbeat is now celebrating this year's success by releasing a limited edition of the successful album. In addition to the original album this release includes bonus tracks and a live DVD with footage from a series of this summer's festivals. A DVD which illustrates the band's uncommonly unique place in the world, showcasing the extent of their fans dedication and appreciation. Whether it's at the Download Festival in the UK, Rock Am Ring, Rock'n'heim in Germany, Hellfest in France or Roskilde Festival, these point-blank recordings capture the true essence of what it's like to be a fan of Volbeat in 2013.
By now Volbeat are a live band in a league of its own. The band's attitude towards the art of bringing the concert, is manifested in Michael Poulsen's words right before entering the stage at Roskilde Festival: "Okay, let's go out and give them something special!"
And so they did; as the upscale versions of "Lola Montez" and "Cape Of Our Hero" from just Roskilde will prove. But it is not only at Roskilde Volbeat give their fans something special. The rest of the footage on the DVD is a testament to this. Perhaps especially on "Guitar Gangsters & Cadillac Blood" and "Heaven Nor Hell" – both taken from Hock'n'heim in Germany – and perhaps the best two live versions of these songs out there right now.
The DVD also includes climactic moments with the band performing "Doc Holliday", "16 Dollars", "The Nameless One", "Evelyn" (with guest Barney of Napalm Death performing), "Another Day", "Maybelline i Hofteholder", "The Hangman's Body Count ", "Dead but Rising" and "Sad Man's Tongue". True evidence of why exactly Volbeat are appreciated as one of the finest rock bands in 2013.
---
Don't forget to follow our Spotify Playlist: