Arcade Fire to be honoured with the 2016 Allan Waters Humanitarian Award
|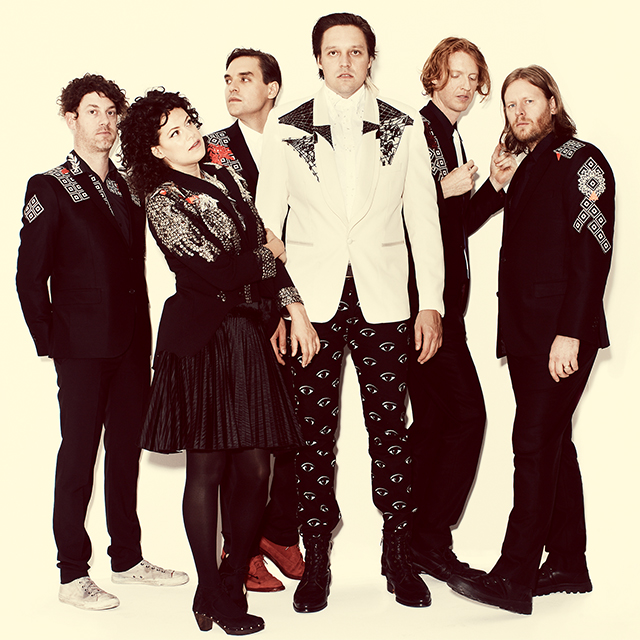 The Canadian Academy of Recording Arts and Sciences (CARAS) today announced Arcade Fire – Win Butler, Régine Chassagne, Will Butler, Richard Reed Parry, Tim Kingsbury and Jeremy Gara – as the recipient of the 2016 Allan Waters Humanitarian Award, sponsored by Bell Media. The eight-time JUNO Award-winning indie rock band demonstrates the spirit of the award through the millions of lives they've enriched through their music and their impact on both local and national charitable causes.
The Allan Waters Humanitarian Award recognizes outstanding Canadian artists whose contributions have positively enhanced the social fabric of Canada. Named after CHUM Ltd. founder Allan Waters, the award is made possible by funding from BCE-Bell Media Benefits. It will be presented to Arcade Fire at the 2016 JUNO Gala Dinner & Awards on Saturday, April 2, 2016 in Calgary, Alberta.
"It is an honour. We are very thankful," said Régine Chassagne on behalf of Arcade Fire. "It helps us continue the work."
"It's an honour to present Win, Régine, Will, Richard, Tim, and Jeremy with this award for their compassionate and impactful work," said Randy Lennox, President, Entertainment Production and Broadcasting, Bell Media. "Arcade Fire is passionate and energetic not only about crafting amazing music, but also amplifying the voice of the non-profit organizations they work with."
Hailing from Montréal, Québec, Arcade Fire is a six-piece band led by the husband-wife duo of Win Butler and Régine Chassagne. Since forming in 2001, the band has garnered both mass popularity and critical acclaim, recognized with eight JUNO Awards, two BRITs and one Grammy. Known for their powerful, energetic live performances, Arcade Fire brings that same energy to their charitable endeavours.
---
Don't forget to follow our Spotify Playlist: