SKIP&DIE release docu 'A Journey of Sounds'
|
SKIP&DIE releases documentary 'A Journey of Sounds', and accompanying single 'Rising Up!', in collaboration with NGO Young In Prison (YIP ) and South African hip-hop artist Jack Parow.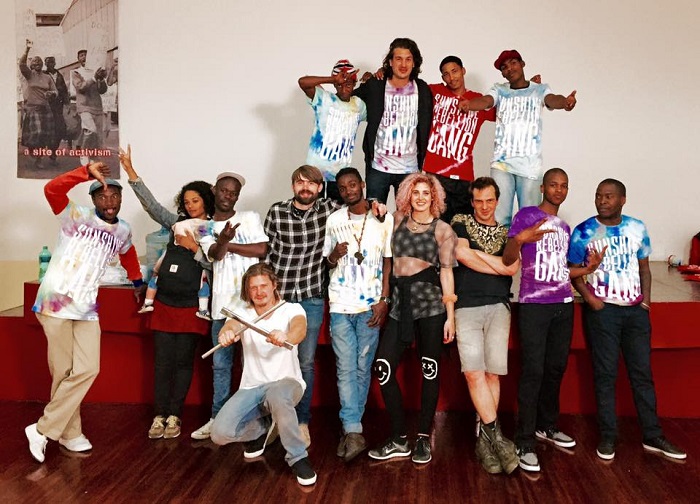 During their recent South African Fall Tour 2015 SKIP&DIE dedicated time between shows to develop and run workshops and recording sessions for youth affiliated with NGO Young in Prison's post-release program, in both Johannesburg and Cape Town. The groups of youngsters, recently released from prison after facing time for diverse crimes, were given the opportunity to get involved in a pro-active creative music program in order to help support and inspire their way back into society.
SKIP&DIE shared with them their knowledge of the music making process, with an aim at the importance of group-collaboration in creation, as well as a hands-on session focusing on the beauty and simplicity of making instruments out of scrap material. In Cape Town, the youngsters were additionally invited to record a song with both the band as well as local hip-hop legend Jack Parow. Their song, 'Rising Up!' will be released by SKIP&DIE, alongside the mini-documentary 'A Journey of Sounds'.
After reaching the finals of the Dutch Red Bull SoundClash competition in 2014, SKIP&DIE was awarded a prize with the opportunity to support a goodwill project of their own choice. The band whole-heartily decided to support Young In Prison (YIP); an NGO working to give youngsters in prison a voice and a chance to make a sustainable change in their lives.
YIP's methodology is to introduce weekly art and sport workshops inside prisons for the youngsters as a starting-point to create this change. YIP also organises programs for the youth who are released from detention, and who need support in finding their own paths back into society.
SKIP&DIE is currently working on new material and taking a few months rest from touring (after their extensive three-year world tour). Frontwoman Cata. Pirata is working from a studio in Buenos Aires, Jori Collignon is in Lisbon & Barcelona, Gino Bombrini & Daniel Rose-Tran are based in The Netherlands. In the beginning of 2016 the band plans to re-group and release an upcoming EP as well as to get their live show ready for the European Summer festival season for a fresh year of touring once again!
---
Don't forget to follow our Spotify Playlist: