DJ Maestro presents: Nina Simone – Little Girl Blue Remixed
|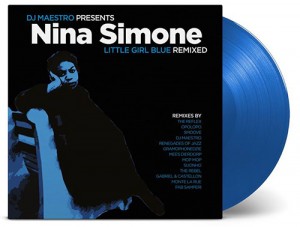 DJ Maestro got the opportunity to officially remix Nina Simone's debut album which was originally released in 1958. Perhaps not as well known to the general public, Bethlehem Records earned its place in Jazz history with the release of debut albums from artists like Carmen McRae, Chris Connor, Herbie Mann and Johnny Hartman. Besides that, check those early covers – pure art!
DJ Maestro is most famous for Blue Note Trip compilations the Dutch DJ produced for Blue Note Records. Now, the maestro resides in the best clubs over Europe, among others Dutch hotspot Apt in Amsterdam and club Babylon Kilimanjaro in Istanbul, Turkey.
Bethlehem's most famous release is Nina Simone's debut abum, 'Little Girl Blue'. So when DJ Maestro (Martijn Barkhuis) got the chance to remix this album, he was thrilled. One thing they all had in common: excitement to work with the original recordings from this iconic album.
The result is 14 remixes, each with a unique approach to the original song, and all with a contemporary feel. Contributions to his album were made by some of the best producers: Opolopo, The Reflex, Renegades of Jazz, Mop Mop, Smoove, Fab Samperi, Sounho, The Rebel, Gabriel & Castellon, Mees Dierdorp, Monte La Rue and of course DJ Maestro himself.
The album just have been released in the USA, Canada, Norway, Sweden, Finland, Denmark, France, South Africa, Israel, Holland, Belgium, Luxembourg and Spain. Early 2016 the album will be released in the UK, Germany and Italy as well. First pressing is a Limited Edition of 750 numbered copies on transparent blue transparent 180 gram audiophile vinyl. (8/10) (V2 Records)

SIDE A
1. PLAIN GOLD RING (MOP MOP REWORK)
2. MY BABY JUST CARES FOR ME (THE REFLEX EDIT)
3. MOOD INDIGO (RENEGADES OF JAZZ REMIX)
SIDE B
1. LITTLE GIRL BLUE (MAESTRO REMIX)
2. LOVE ME OR LEAVE ME (SUONHO RELOVE)
3. AFRICAN MAILMAN (THE REBEL REMIX)
4. I LOVES YOU PORGY (MEES DIERDORP REMIX)
SIDE C
1. MY BABY JUST CARES FOR ME (GABRIEL & CASTELLON AND MAESTRO REMIX)
2. AFRICAN MAILMAN (OPOLOPO REMIX)
3. PLAIN GOLD RING (FAB SAMPERI REMIX)
SIDE D
1. HE NEEDS ME (GRAMOPHONEDZIE REMIX)
2. LOVE ME OR LEAVE ME (GABRIEL & CASTELLON AND MAESTRO REMIX)
3. AFRICAN MAILMAN (SMOOVE REMIX)
4. CENTRAL PARK BLUES (MONTE'S MIDNIGHT MIX)
---
Don't forget to follow our Spotify Playlist: