Placebo – "MTV Unplugged" out 27th November
|
With their 20th anniversary inching ever closer, Placebo could well be forgiven for sitting back and taking stock. After all, with seven studio albums behind them (five of which have topped the German album charts), more than 12 million album sales, and monumental 18-month tours performed before millions of fan worldwide, what else were they supposed to do?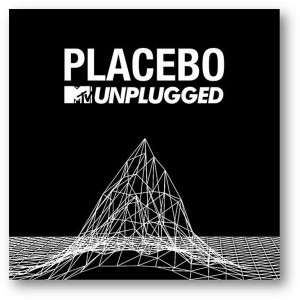 The answer: reinvent themselves yet again, while revamping the iconic "MTV Unplugged" format in the process. When Placebo received the invite to appear on their own "MTV Unplugged" special, Molko recalls, "It wasn't going to be enough to just sit at the piano and strip the songs down to their bare bones." Olsdal adds: "Once we found out that we were going to play this show we were on a mission to make our contribution to the 'MTV Unplugged' story equally exciting for us and the audience."
Cut to The London Studios, in the heart of the city where Placebo played their first ever concert. Monochromatic white light strafes the room with horizontal and diagonal lines that hover delicately above the audience. Molko is on stage with an acoustic guitar and the first of many surprising instruments: a colourful tube that, when manipulated out of shape, produces an array of transcendental sounds that embellish the group's performance. But it's not just that the group sound different – they ­look different, too. Like a Peppers Ghost illusion, they appear encased in light – a spectacular visual effect that only heightens the radical reworking of the music. "The biggest challenge was to recreate these songs in a new and appealing way," says Molko. "Because at the end of the day, we, too, wanted to be surprised."
True to form, Placebo's artistic vision and appetite for adventure is simply astonishing. One moment the band unleashes all the energy of a forceful, passionate rock band, the next – as on the mega-hit, 'For What It's Worth' – they let the string ensemble take over for a delicate, beautifully arranged solo. Elsewhere in the set, sophisticated, brand-new arrangement of well-known songs are stalked by unfamiliar percussion: Arabic and Indian instruments that not only lend a subtle edge to the rich sound, but also add a whole new dimension to the visual experience. "We spent months preparing this," remembers Molko. "We were constantly working on those songs and tweaking them, because this was completely unknown territory for us – totally outside of our comfort zone." For the audience, however, the results were comfortably warm, captivating and astonishing.
Working with new drummer Matt Lunn, as well as a dozen guest musicians, Placebo refused to play it safe. Instead, they decided to rework songs such as "Bosco," which had never before been played live – in any style. As Molko acknowledges: "'MTV Unplugged' gave us the opportunity to explore the acoustic and more experimental side of our music, and to play a few songs we had not performed like this before."
---
Don't forget to follow our Spotify Playlist: