Jazz Singer Laura Ainsworth Signed for National Label Debut
|
Dallas-based retro jazz singer Laura Ainsworth is back in the studio, cutting a sultry 1940s torch song for her third album, New Vintage. Like her first two releases on her indie label Eclectus Records, Keep It To Yourself and Necessary Evil, it reteams her with renowned pianist/producer Brian Piper and an array of top Texas jazz players. But album #3 marks a turning point for the redheaded chanteuse, whose sequined gowns and long silk gloves are as much a trademark as her silky, three-octave voice that's earned comparisons to such mid-century songbirds as Rosemary Clooney and Dinah Shore.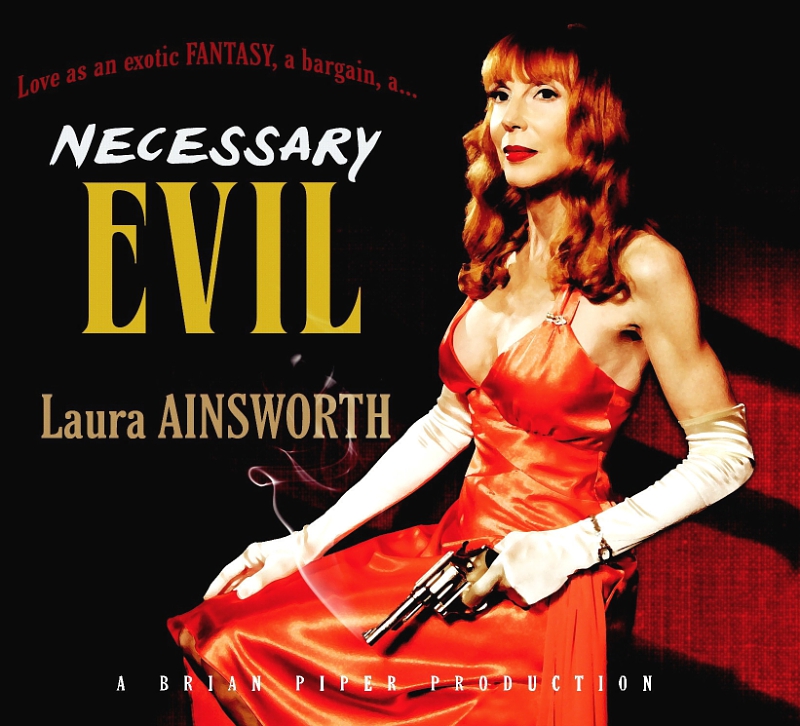 After the Dallas sessions are complete, Ainsworth and Piper will fly to New York, where Grammy-winning producer Jack Kreisberg will add finishing touches for New Vintage to become Laura Ainsworth's national debut on his American Showplace Music label. Jazz icon Kreisberg managed the famed Blue Note Jazz Club, producing a series of acclaimed live albums, and launched the Half Note jazz label. He pegged Ms Ainsworth as a talent worth signing after New York Blues Hall of Fame guitarist Michael Packer raved to him about Necessary Evil. Prior to releasing New Vintage this summer, Kreisberg will also rerelease Necessary Evil nationally.
Ms Ainsworth has been building a worldwide following by reimaging standards and reviving long-forgotten obscurities in a style she calls "new vintage," a term that's since become its own genre with her as a leading figure. She mixes her own modern touches with classic big band, Vegas lounge and cocktail jazz of the 1930s-'50s, styles she grew up loving as the daughter of the late sax and clarinet master, Billy Ainsworth. She says, "As a little girl, I would sit spellbound, watching him back Tony Bennett or Ella Fitzgerald, and think, 'I want to do that!'"
She released her indie debut, Keep It To Yourself, in 2011 with little fanfare, but word slowly spread among DJs and critics. The film noir-inspired follow-up, Necessary Evil, attracted even better reviews and influential music industry fans. Ms Ainsworth started 2015 touring India and Dubai as part of the WOA International Music Festival and ended in Charlotte, nominated for Best Female Vocalist and Best Mainstream Artist at the nationally-televised Artist Music Guild Awards, sharing the stage with Melba Moore, Martha Reeves and other stars. In between, she hit New York to perform on TV, sing at Birdland and tour Kreisberg's studio, home to both jazz artists and rock legends such as Eric Clapton and Keith Richards.
Now, 2016 is shaping up as a breakout year. While finishing New Vintage, she's preparing for a Grammy week trip to L.A. to perform alongside several of this year's nominees at The Soiree, a major industry event February 13th at the Whiskey A-Go-Go. She released a video of "Necessary Evil" shot in India, and Grammy-winning producer Ricky Kej is creating a techno-dance remix of the big band tune. She will also appear on the hot cult CD series, This Is Vintage Now.
Ms Ainsworth says, "I'm grateful so many people seem to like that I'm trying to reinvent these classic styles of music for the 21st century. I always thought of my albums as messages-in-a-bottle. When I sent them out into the world, I hoped someone would eventually find them. I'm amazed by how far they've traveled and how many people they've touched."
---
Don't forget to follow our Spotify Playlist: