Remembering Pavarotti with Andrea Bocelli and Renee Fleming
|
Legendary tenor Andrea Bocelli and renowned soprano Renee Fleming will headline a spectacular benefit concert and gala dinner at the Dorothy Chandler Pavilion of the Los Angeles Music Center,  September 25 celebrating the life and legacy of the most outstanding tenor of his day, the beloved Luciano Pavarotti, who died tragically of pancreatic cancer. The special evening will feature the pair performing iconic arias, duets and classic songs with the Los Angeles Opera Orchestra conducted by Eugene Kohn, as well as a guest appearance by Placido Domingo.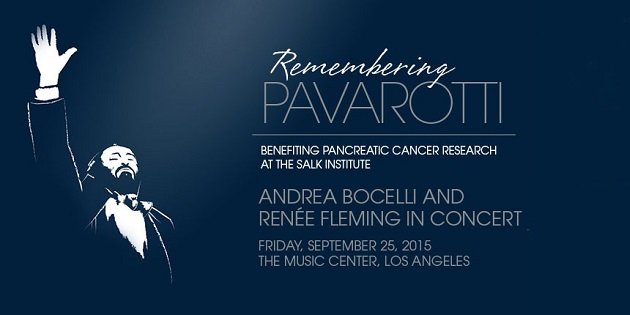 A highlight of the evening, chaired by Dr. William Isacoff and Barry Tucker, will be the screening of a video ofRichard Tucker and Luciano Pavarotti singing together and will be introduced by Placido Domingo.  The concert will be produced by Barry Tucker, President of the Richard Tucker Foundation. A gala dinner chaired by Goldie Hawn, Steve Kaplan and Ogden Phipps, III, will immediately follow the concert.
Funds raised by the William H. Isacoff, M.D. Research Foundation for Gastrointestinal Cancer will be directed toward pancreatic cancer research at the Salk Institute for Biological Studies, where leading-edge research in the Gene Expression Laboratory, led by Dr. Ronald M. Evans, is yielding promise for treatments for the lethal disease.
The Salk Institute for Biological Studies is one of the world's preeminent basic research institutions, where an internationally renowned faculty probes fundamental life science questions in a unique, collaborative and creative environment. Focused both on discovery and on mentoring future generations of researchers, Salk scientists make groundbreaking contributions to our understanding of cancer, aging, Alzheimer's, diabetes and infectious diseases by studying neuroscience, genetics, cell and plant biology, and related disciplines.  Founded in 1960 by polio vaccine pioneer Jonas Salk, MD, the Institute is an independent nonprofit organization and architectural landmark.
Founded in 1975, The Richard Tucker Music Foundation is a non-profit cultural organization that honors the artistic legacy of the great American tenor through support of talented American opera singers and by bringing opera into communities around the world.
---
Don't forget to follow our Spotify Playlist: