Smithsonian Receives Brian Setzer's Gretsch Guitar
|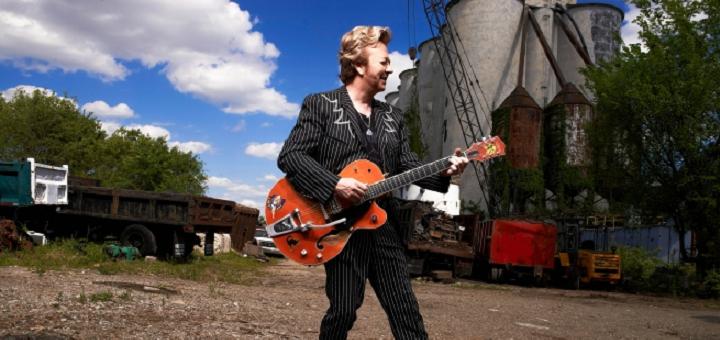 Grammy Award-winning musician Brian Setzer donated his signature orange Gretsch guitar to the Smithsonian's National Museum of American History during a ceremony Oct. 17. The replica guitar is evocative of Setzer's original 1959 Gretsch 6120 "Stray Cat" guitar, for which he raided his Monopoly game for two dice drilled holes in them and attached them to take the place of the missing tone knobs. To help resemble a 1950s-era "hot rod," Setzer added three decals that, in the replica, were duplicated with the aid of a master guitar builder.
Setzer, an American guitarist, songwriter and vocalist, is known for continually taking chances with innovative and daring musical styles, while single-handedly resurrecting two forgotten genres of music, first with 1980s rockabilly band the Stray Cats and then again in the late 1990s with his 18-piece "Rockin' Big Band," The Brian Setzer Orchestra. In 1987, he appeared on the big screen in the Ritchie Valens biographical film, La Bamba, portraying rockabilly pioneer Eddie Cochran.
"Brian Setzer is a prolific and distinctive contributor to American music," said John Edward Hasse, the museum's curator of American music. "Proof of his legacy exists not only in the longevity of his career and in his lengthy discography, but also in his ability to cross musical boundaries."
In 1982, Setzer released his first single with the Stray Cats, "Rock This Town" on which he played a 1959 Gretsch 6120 model guitar. As the guitar aged, it began to fall apart. Stephen Stern, a Gretsch master guitar builder, replicated every detail of the original guitar. When Stern presented it to Setzer, he found it to be virtually indistinguishable from the original. It is the 2006 replica that is now in the museum's collection.
"What an honor it is to be in the Smithsonian just for playing the music that I love," said Setzer. "Maybe in a hundred years people will look at my guitar and be inspired to play it and enjoy it the way I do."
Setzer's guitar will join a large and diverse collection of musical instruments at the museum that includes John Coltrane's saxophone, Dizzy Gillespie's trumpet, Prince's Yellow Cloud electric guitar and Eddie Van Halen's "Frank 2" guitar.
---
Don't forget to follow our Spotify Playlist: