Legendary rock guitarist Leslie West releases sixteenth solo album
|
'Soundcheck' is the sixteenth solo album by legendary rock guitarist Leslie West. It follows 2011's critically acclaimed 'Unusual Suspects', which featured contributions from such accomplished guitarists and close friends as Billy Gibbons, Slash, Zakk Wylde, Steve Lukather and Joe Bonamassa, and 2013's 'Still Climbing', which included blistering duets with the late, great Johnny Winter, Jonny Lang and Mark Tremonti.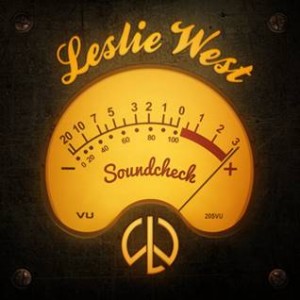 For this new release, Leslie lays down some of his most inspired musical magic to date with the assistance of true rock royalty: the renown British guitarists Peter Frampton and Brian May, ex-Jeff Beck keyboard virtuoso Max Middleton, vocalist extraordinaire Bonnie Bramlett and the late great Cream bassist and longtime friend of Leslie's, Jack Bruce. Back in 1972, Leslie made musical history with Jack when they joined forces to form the super group West, Bruce and Laing. Soundcheck is co-produced and engineered by West's collaborator Mike "Metal" Goldberg, who he shared, "helped me get my sound down on 'Tape' as they used to say, and did an amazing job as he always does."
Leslie West (born Leslie Weinstein, October 22, 1945) first gained worldwide recognition in 1969 as the guitarist and singer in the groundbreaking rock band Mountain. West's wholly unique sound, distinguished by beautifully melodic phrasing, his slow, wide vibrato, and a crushing guitar tone set the standard in the late sixties and early seventies for blues/rock guitar playing of the highest order. Along with the hugely influential Top Ten hit "Mississippi Queen," Leslie's brilliant guitar work serves as the driving force behind the Mountain classics, "Nantucket Sleighride," "Never In My Life," "Don't Look Around," "Blood of the Sun," "Dreams of Milk and Honey," and the incredible Jack Bruce composition, "Theme For an Imaginary Western."
That one-of-a-kind signature guitar sound propels 'Soundcheck' throughout, evidenced by such powerful tracks as, "Left By The Roadside to Die," "Here For the Party," "Empty Promises–Nothing Sacred," "Going Down," "Spoonful," "A Stern Warning" and five other stellar songs. "I wanted to surprise myself with this record," Leslie discloses. "On that very first track, 'Left By The Roadside to Die,' I initially played the synthesizer part on the guitar, but I thought it would be really cool to start the record with a sound other than the guitar. I decided to have my keyboard player David Biglin come in and re-do it with the synth. That synth part provides a great groove, which enables me to first come in with the acoustic guitar and then bring in the heavier electric guitars right at the second verse. Another twist is that I add some acoustic slide guitar on the track, with the guitar in a really unusual open D tuning. All of the strings are tuned to either a D or an A note-no thirds in any of the chords." For the solo, Leslie lays down a blistering slide guitar solo that burns with the power and precision that has earned him the respect and admiration of multiple generations of guitar players.
Included among Leslie's many fans and disciples are six-string luminaries such as Eddie Van Halen, Randy Rhoads, John McLaughlin, Jethro Tull's Martin Barre, Warren Haynes, and Richie Blackmore of Deep Purple. Blackmore has stated that Leslie's phenomenal playing on "Mississippi Queen" served to redirect the course of Deep Purple's music in an instant, ultimately resulting in the brutal hard rock intensity displayed on Deep Purple In Rock. "I've always really loved Leslie West's playing," says Blackmore. "I remember being in a place in Germany, and Ian [Paice, DP drummer] and I were out drinking together. In those days, you could go to a club and listen to the new records in their entirety that had just come out. Paice and I heard, 'Mississippi Queen,' and we both went white! We were thinking, 'Who the hell is that?!' It had such a big sound! For three guys, it was incredibly heavy. And Leslie's vibrato is just great. Hearing Mountain directly influenced the direction of the Purple, and you can hear that influence on what was to become our next record, [1970's], In Rock. At the time, we were trying to find our way as a band, some sort of 'category.' Jon [Lord, the late DP keyboardist] was into the classical stuff, and, although I love classical music, I wanted to follow up the Deep Purple album, the last one with the original line-up, with something much heavier, out-and-out rock. And that's how In Rock came about."
For Martin Barre, meeting Leslie in 1970 served to inspire the writing and playing on Jethro Tull's most successful album in the band's history, 'Aqualung'. "Prior to going into the studio to record [1971's] 'Aqualung', I met Leslie, whose playing I absolutely loved," Barre reveals. "Leslie is well known for his association with Les Paul Juniors, and just after meeting him, I picked up a 1958 Junior because his sound was so incredible. I would say that he's the only guitarist who has ever influenced me directly."
Leslie was also influential in the development of the music for The Who's masterpiece, 'Who's Next'. In early 1971, he was invited to record with the Who for the band's initial NYC Record Plant sessions for the album, which sparked a close friendship with The Who's leader, Pete Townshend. Says Pete, "Leslie gave me a really great Les Paul Junior with one pickup on it for me to use on 'Who's Next', and Eric Clapton gave me an old Strat. They both gave me really good instruments and I still have those instruments today. Along with my Gretsch Chet Atkins, those three guitars were the only ones I used on 'Who's Next'."
Another fan of Leslie's was none other than Jimi Hendrix, with whom Leslie jammed at famed NYC clubs like Ungano's and elsewhere. "I first met Jimi while I was recording 'Climbing!' at the Record Plant and he was in another room mixing Band of Gypsys," Leslie recalls. "Jimi came in and after hearing the first track, 'Never in My Life' he looked over at me and said, 'That's a great riff, man.' I started shaking! There's a great picture of us playing together at 'Ungano's', and Jimi's playing Felix [Pappalardi's] bass. Getting to know and play with Hendrix is one of my greatest life experiences."
Closing out his new album 'Soundcheck', is a treasure for all longtime fans of Leslie West: a live version of Willie Dixon's, "Spoonful," recorded with Jack Bruce on bass and vocals and Joe Franco on drums, played in the classic Cream style as captured on 1968's Wheels of Fire. "Back in 1988, I recorded an album called, Theme, which featured Jack on bass. We recorded at Millbrook in upstate New York, and the owner of The Chance in Poughkeepsie called and asked if we wanted to come over and do a set there, with no advertising, no nothing. Jack was into it, and the engineer at Millbrook, Paul Orofino, came with us and recorded the gig with a small portable stereo machine. "After hearing of Jack's passing, we edited it down from its original length and decided it would be great to include on the record. As you can hear, I was trying to reincarnate myself into Eric Clapton! The first time I listened to Jack's voice and the tone of his bass on the recording, I had tears in my eyes. I loved Jack so much."
Leslie is looking to close out 2015 and kick off 2016 with major touring in the states and in Europe, performing a combination of his time-honored classics plus the material from 'Soundcheck'. "I'm so happy with the sound of this new record," Leslie affirms. "The guitar sound we captured is fantastic, and my voice is feeling better than ever."
---
Don't forget to follow our Spotify Playlist: