Joe Bonamasa back with 'Live at Radio City Music Hall'
|
In January 2015, Joe Bonamassa took the iconic Great Stage at Radio City Music Hall for the first time for a sold-out, two-night run that allowed him to fulfill his lifelong dream of performing in one of the world's most legendary venues. On October 2, 2015, Bonamassa will share this experience with fans and music lovers around the world with 'Joe Bonamassa – Live At Radio City Music Hall' as a DVD + CD set, Blu-Ray + CD set and 2 LP vinyl + MP3 download on Provogue in the UK.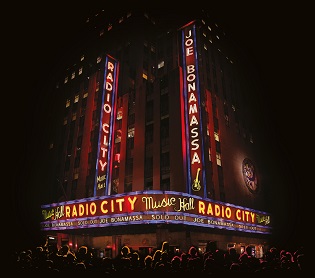 The set features over 75 minutes of music, two newly recorded songs, nine unreleased live tracks, over 2.5 hours of live footage, a special 45-minute behind-the-scenes featurette, a 40-page collector's book with exclusive photos, and a sneak peek into Bonamassa's childhood home and musical heritage. Everything is presented in a beautifully designed package.
With this career-defining moment, Bonamassa joined hundreds of legendary entertainers who have graced the same stage, from Frank Sinatra, Ella Fitzgerald, Linda Ronstadt, Liberace, Sammy Davis, Jr., Ray Charles and BB King to Bette Midler, Stevie Wonder, Tony Bennett, Billy Crystal, The Eurythmics, Barry Manilow, Liza Minnelli, Sting, and many others. Bonamassa couldn't be more thrilled, and more humbled, to be in the company of these icons.
"I am extremely honored by a lot of things in my career, but honestly, as a born New Yorker, getting the opportunity to play the world's premier concert theater will always be something I look back on and cherish. Thank you to the ten thousand people that came out over those two nights. It was a great honor," said Bonamassa.
These shows were the culmination and the finale of Bonamassa's special half acoustic/half electric tour, which he showcased around the world for the past year and half. The first set has Bonamassa playing alongside the acoustic band "The Huckleberries" from his #1 Billboard CD/DVD An Acoustic Evening At The Vienna Opera House (Irish fiddler Gerry O'Connor, nyckelharpa and mandola master Mats Wester, keyboardist Reese Wynans, and percussionist Lenny Castro). He then shifts into electric mode for the second set with his regular touring band (bassist Carmine Rojas, keyboardist Reese Wynans, drummer Tal Bergman, trumpeter Lee Thornburg, trombonist Nick Lane, and saxophonist Paulie Cerra).
Radio City Music Hall is located in the heart of New York City and is the largest and most iconic music theatre in the world. Home to the Rockettes Radio City Christmas Spectacular and known as the ultimate destination for the brightest and the best, Radio City Music Hall has shown some of America's most popular entertainers such as Frank Sinatra and Ray Charles. With sweeping arches, high ceilings, and a large golden stage curtain Radio City Music Hall has some of the most elegant architecture in addition to the three shallow mezzanines that ensure optimum viewing from every seat.
---
Don't forget to follow our Spotify Playlist: