Iron Bastards announce new full-length album "Boogie woogie violence"
|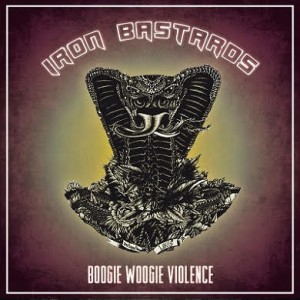 French Fast Rock'n'roll power trio Iron Bastards just announced the release of its debut full-length album called "Boogie woogie violence" and coming out on September 11th 2015 through BLACK'N'PURPLE Records (Evas Kiss Anger…). 15 songs + 3 live recordings of hi-energy rock roll vibes with 70's influences to come in CD and digital formats in order to kick some asses on the road, on stage or anywhere.
In the meantime, the band just unveiled the artwork of this ucoming album and put its past discography for entire streaming on Bandcamp.
The Iron Bastards play a fast and dirty rock'n'roll. Energetic, aggressive, motivated, the Bastards give heavy and powerful shows that will make your ears bleed ! Founded in 2013, the band played fast from its beginning but also work fast and released its two first records in 2014 ("Boogie woogie sessions" and "Wasteland") before to begin to work on a full-length album. After playing tons of high-energy gigs, Iron Bastards release "Boogie woogie violence" in 2015. For fans of Motörhead, Nashville Pussy, Danko Jones, Peter Pan Speedrock….
---
Don't forget to follow our Spotify Playlist: