Rain and Icecream during Blur's reunion show in Hyde Park
|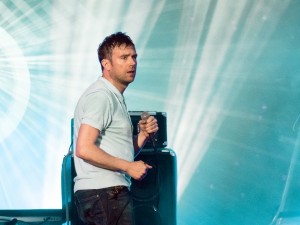 Recently, Blur announced they will return with a new record and a Hyde Park London appearance, during their press conference 4 months ago. Their promise has been kept with the new 'Magic Whip' album and several international engagements. Blur is extremely beloved by their many dedicated fans, despite disappointing ticket sales for the Hyde Park gig . In previous years, their shows would have sold out immediately, however they had to compete with the Foo Fighters performing at Wembley Stadium. However, fate would force the Foo Fighters to cancel their show and gave Blur a much needed audience boost in the Hyde Park venue.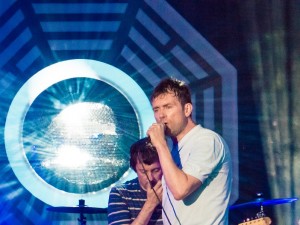 The event was organized by the British Summer Time Festival, allowing the audience to enjoy music all day long by many acts, including The Horrors, Drenge, and Teleman Metronomy. It was clear though, most people came to Hyde Park for this magical Blur event. This new album, infused with a different new sound, inspired many of their dedicated fans, to travel from all over the world to experience, some all the way from Japan, Mexico, Italy, and Chile. Little did they know, what was about to come.
The amazing and unique introduction included three large disco balls complete with the Magic Whip logo, a stage filling HD3D screen, neon lit ice cream cones and even a real ice cream truck with a man serving real ice cream cones.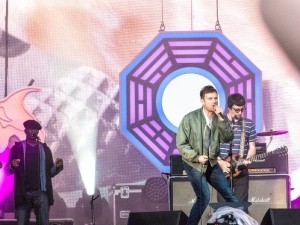 The band opened with 'Go Out' and 'Lonesome Street', along with their classics 'There's No Other Way', 'Badhead', and 'Coffee & TV'. These songs are received very well – their fans know these songs by heart, but the "Oh oh oh oh" isn't that hard to sing along. Blur' then went into a calmer setlist with 'Out of Time', a new song entitled 'Thought I Was A Spaceman', 'Beetlebum', 'Trimm Trabb' and the fairly unknown 'He Thought Of Cars' almost made the audience nod off. The relaxed vibe, along with some rain, left the fans to yearn for the more upbeat and sing-a-long portion of the show.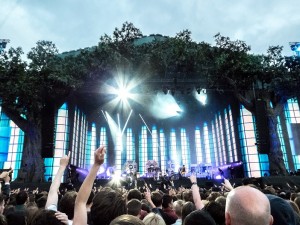 Well as quick as the rain appeared a small moshpit appeared in front of the stage, not unknown to Damon, he announced the next song was for them. 'I Broadcast' started and it all went completely mental. Blur also made the audience very happy with 'Trouble In The Message Centre'. As the band played the first chords of 'Tender', a massive sing-a-long started and guitarist Graham barely had to sing himself. This song could go on forever. Damon who tried to blow the cloud away was doing this without any result. The sun was slowly setting and never really got the chance for a breakthrough. And 'cos the sun couldn't cheer us up, it had to be done with humongous yellow smiley beachballs.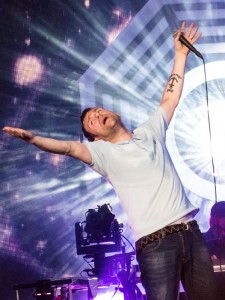 Damon introduced his best friend Phil Daniels, who is greeted with a loud 'oi' by the audience. A second round of cones is passed around to the frontrow and after that 'Parklife' made everybody jump. Written symbolic about Hyde Park and now the song made the grass field turn into mud below our feet.
The cozy 'Ong Ong' came next and when the first drum beats were kicked in by drummer Dave Rowntree the audience is already screaming "Woohoo!". Yes we have arrived to 'Song2'. The most exuberant song in the playlist is luckily only 1,5 minute long, which prevented a lot of bruises.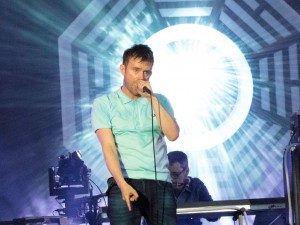 'To The End' and 'This Is A Low' are wonderful songs to end this set before they left the stage. During the encore break, the audience was entertained by cast members dressed up in the costumes of Blur's 'Ong Ong' videoclip. These notorious suits caused massive hilarity, sparking rumors that Blur were in the suits. When Blur returned, on stage, fans were very surprised to hear 'Stereotypes', a song that isn't played live very often while many expected to hear 'Country House. 'Girls & Boys' is next, followed by 'For Tomorrow' and the faithful closing song 'Universal' left the whole field of Hyde Park in pure ecstasy. Fans hugged and shed tears and continued to sing out loud after their Britpoppers dropped this dream show and experience on them.
The expectations of this comeback show were high, but Blur has outdone themselves. A technical masterpiece, great new songs and an amazing vibe.
Photo's (c) Stephanie Free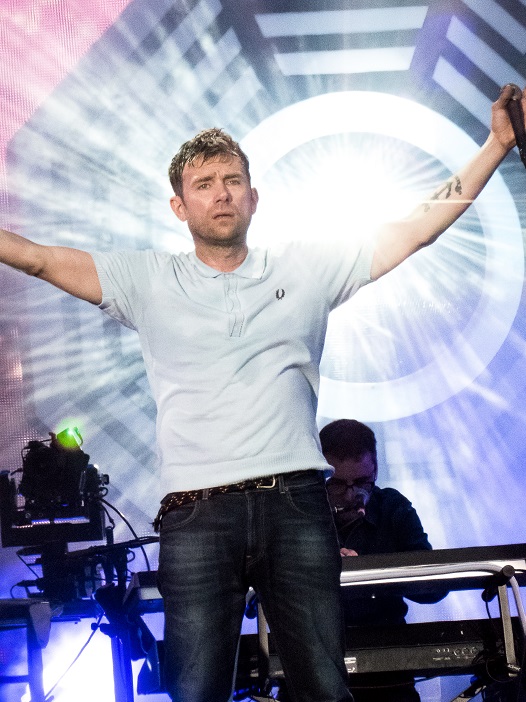 By Stephanie Free
Translated by Samantha Hol
Corrected by Mike Payne
---
Don't forget to follow our Spotify Playlist: