UK Country Rock Band Quill Release New Album "Brush With The Moon"
|
Quill is a well-established, 7-piece country/folk/rock band based in Birmingham, England, from the same stable as ELO, Black Sabbath, The Moody Blues, Led Zeppelin, Christine McVie (Fleetwood Mac) and more, have been wowing audiences for many years. In the past, all of these musicians played in and around Birmingham and kept in touch with each other.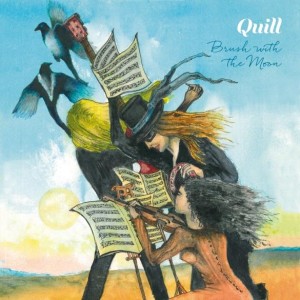 Says lead singer Joy Strachan–Brain, " 'Brush With The Moon' is Quill's first album to be released Worldwide and we are excited!!Until 2012, Quill was one of the busiest gigging bands in the UK, just getting out there and making music. Our self-penned album 'Privileged' sums up how we felt, doing a job we loved, visiting interesting countries , meeting amazing people and making music."
The band's new album "Brush With The Moon" is a collection of songs written by the late BEN BRAIN. Ben was bass player and husband to Quill's lead singer Joy Strachan–Brain. He left a legacy of wonderful songs and inspired by Jeff Lynne's use of John Lennon's demos on "Free as a bird", Quill was moved to use Ben's vocals and original demos to create this new album. "Brush with the Moon" is a tribute to Ben and has truly been a labor of love.
Featuring respected musicians: Bev Bevan (ELO, Black Sabbath), Brian Tatler (Diamond Head), Tony Kelsey (who has played guitar with Robert Plant, Stevie Winwood, Jim Capaldi) and Matt Davies (well respected bass player and vocalist) along with band members Joy Strachan-Brain, Dave Bailey, Kate McWilliam and Tim Tandler
Bev Bevan commented, "Over the years I have always been an admirer of Quill. I was particularly a fan of Joy, the lead singer, who I considered to be the best female singer around the Midlands area. When I was asked to put a band together for a national tour called 'Stand up and Rock and found that the show needed a female lead vocalist, I immediately asked Joy to be part of it and she agreed. Since then 'Stand up and Rock' has become one of the most successful shows around with sell out tours around Great Britain. About a year ago I joined Quill as percussionist (being a drummer, I have always also liked playing percussion instruments too and have done so in the studio with The Move, ELO, Black Sabbath and Jose Feliciano). It's great to be doing it live on stage now, and playing drums on some songs too. The line up has changed since I joined and the band now has a more folk and country rockier edge to it. The band is also now concentrating on just theatre shows and festivals and I'm very proud to be part of it and delighted to be on this current , newly released album 'Brush With The Moon'. Joy and I are writing songs together and we are looking forward to recording tracks for another album to be released later this year."
Ben Brain was not only a fantastic wordsmith and performer, but a well respected artist. All of the album artwork consists of Ben's sketches, which accompany his handwritten lyrics. All of Ben's drawings seemed appropriate for the "Brush With The Moon" digipak artwork. The front cover is a water colour painting Ben had produced depicting the songs on the album. Additional artwork contribution to the album was from Ben's daughter, Jenna Swann.
Quill tour dates
Acoustic Festival of GB – June 21, 2015, Uttoxeter Racecourse Wood Lane ST14 
Americana Festival – July 12, 2015, Loughborough Road Loughborough LE12
Robin 2 – August 1, 2015,
Artrix Theatre – August 15, 2015, Bromsgrove Highway Bromsgrove B60
Abbey Theatre – September 26, 2015, Abbey Green Nuneaton CV11
Prince of Wales Theatre – October 9, 2015, Arts Centre Cannock WS11 1DE 
Assembly Rooms – November 7, 2015, 1 Mill Street Ludlow
Sutton Coldfield Town Hall – December 4, 2015, Upper Clifton Road, Sutton Coldfield, West Midlands B73 6AB
Huntingdon Hall – December 11, 2015, Crowngate shopping Centre Worcester 
---
Don't forget to follow our Spotify Playlist: