Chris Brown announced as headliner for 'Vestival'
|
American superstar Chris Brown is set to headline major European festival 'Vestival' this summer. The R&B heavyweight will perform all his hits live at the Malieveld, The Hague on Saturday 1st August in what will be a rare opportunity for his fans all over Europe. The 'Loyal' star, who's 6th studio album 'X' released last year, will be headlining the 2nd year of 'Vestival', one of Europe's leading urban/pop festivals. With a string of hit singles in the last 12 months including 'Loyal', 'Ayo' and 'New Flame', Chris Brown is set for an electrifying headline performance in The Netherlands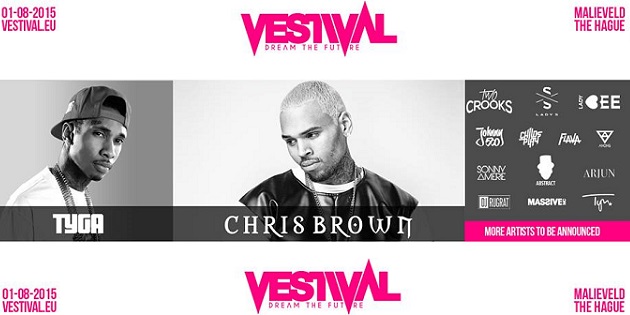 American superstar Chris Brown is set to headline major European festival 'Vestival' this summer. The R&B heavyweight will perform all his hits live at the Malieveld, The Hague on Saturday 1st August in what will be a rare opportunity for his fans all over Europe. The 'Loyal' star, who's 6th studio album 'X' released last year, will be headlining the 2nd year of 'Vestival', one of Europe's leading urban/pop festivals. With a string of hit singles in the last 12 months including 'Loyal', 'Ayo' and 'New Flame', Chris Brown is set for an electrifying headline performance in The Netherlands.
As well as headline act Chris Brown, 'Vestival' is also proud to announce American rapper Tyga who returns to the festival's line up for the second year after proving a massive hit with the fans in 2014. Chris Brown and Tyga released their collaborative album 'Fan Of A Fan' earlier this year, 12 songs featuring both urban talents. The album includes the smash hit 'Ayo' which peaked at number 6 in the UK Top 40 singles chart, and number 1 in the UK R&B chart. 'Fan Of A Fan' peaked at number 7 in the UK album chart and number 1 in the UK R&B album chart, proving a big success for both Chris Brown and Tyga ahead of their performance at this year's 'Vestival'.
With more acts set to be announced in due course, 'Vestival' follows up from a huge bill last year which included Trey Songz, A$AP Rocky, Miguel, Tyga, Ryan Leslie, Craig David and Eva Simmons taking to the stage at a sold out show in Goffertpark, Nijmegen attracting over 20,000 people (23rd August 2014). The summer festival has become The Netherland's main hub for Pop, R&B, Hip Hop, House and Garage music and continues to lead the way again this year with another exciting line up. 'Vestival' also offers it's live music platform for local Dutch and European artists who are given the opportunity to share the stage with major international performers.
---
Don't forget to follow our Spotify Playlist: