Chinese hip-hop boy group Boy Story becoming immensely popular in Thailand
|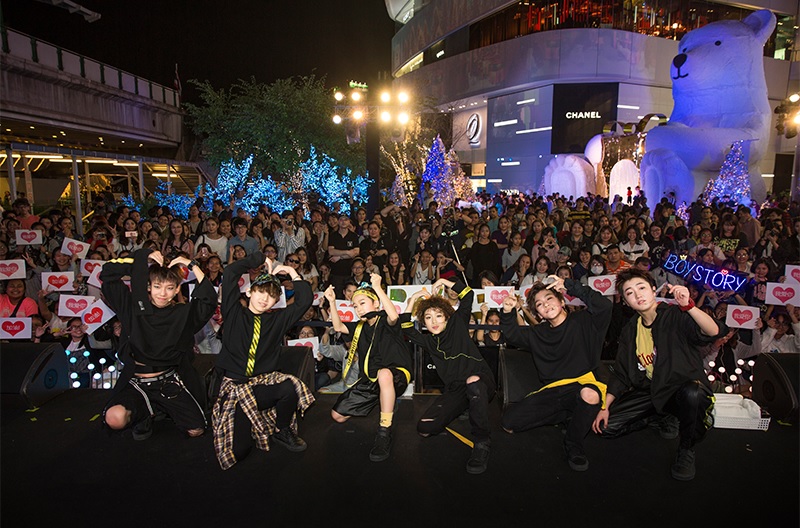 Boy Story, a hip-hop boy group who is owned by NCC Entertainment, is also a key asset in Giant Goal Entertainment's partnership portfolio, has been getting a lot of attention in Thailand since the release on December 22 of a new single, Can't Stop, with a unique dance performance and stylish outfits. Even though it was their first time performing in overseas, all members of Boy Story performed with a full of confidence without getting nervous. The members of the boy group said they are pleased with their singing of 'Burn', 'How Old R U' and 'Can't Stop' in front of many fans in Thailand. These three strong tempo songs, what Boy Story performed were great examples of showing the teenagers' creative, youthful attitudes.
Thai fans showed their passion in no small measure, demonstrated by the screams of the adoring fans, and the gifts they left of the stage during the performances. Some of fans were even screaming out the Chinese words of the songs during the chorus and called out each member by their Chinese name. The group's members were excited by first time visiting Thai fans, and felt great by having great support from fans boosts their confidence and courage at the performance. In addition to expressing their gratitude to fans, Boy Story members said they hope to meet Thai fans again soon.
Boy Story launched their second single Can't Stop in China on December 15, its music video hit over 5 million views in the first 12 hours and topped all four leading charts in a week, again proving the young group's popularity. The positive feedback that Boy Story received in Thailand represents a milestone for the Chinese hip-hop boy group in countries outside of their home base.
The group is still in the process of the one-year "Real Project". The young group plans to soon launch their third and fourth singles and accompanying music videos. In August of next year, they will announce their formal debut by kicking off their first mini album. The hip-hop boy group hopes to have fans in an ever-growing number of countries, and to eventually become a household name worldwide.
---
Don't forget to follow our Spotify Playlist: