Will Young releases brand new studio album
|
Will Young releases his brand new studio album '85% Proof' through Island Records on May 25th. The album will be preceded by the single 'Love Revolution' on May 18th.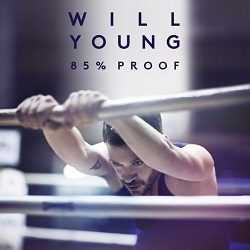 '85% Proof' is the sixth album from the multi-million selling Brit Award winning singer-songwriter and represents his most accomplished work to date. The record is an eclectic, hugely confident and startlingly human record lead by the joyous, clap-heavy old school R&B strut of lead single 'Love Revolution'.
'Love Revolution' comes with a brilliant high-technicolor video, shot in a hyper-realistic futuristic fantasy world, directed by Chino Moya (St Vincent 'Digital Witness' video).
Will Young – '85% Proof' tracklisting:
Standard
1. Brave Man
2. Promise Me
3. Love Revolution
4. You Think I'm Sexy
5. Gold
6. Like A River
7. Joy
8. Blue
9. Thank You
10. I Don't Need A Lover
Deluxe
11. Dare
12. Where Are You Tonight
13. You Keep On Loving Me
14. Always On My Mind
---
Don't forget to follow our Spotify Playlist: