Wearyland: a father, a daughter, and an album now
|
It all started 20 years ago. Alain Quateau had just received the happy news that his wife was pregnant. Overwhelmed by joy, excitement and also fear he ran to his bedroom. He wanted to be alone. Try to absorb the news in silence. But while he was contemplating future responsibilities, he picked up his guitar and unconsciously started striking some chords. In no time he had written the song 'Alice'. Eight months later his daughter Maaike was born. Years went by. Alain saw his little girl blossom into a beautiful woman, and never stopped writing songs along the way. Songs that Maaike would hum along while he was writing or playing them in their living room. Alain had always been telling everyone that his daughter had great musical instinct. Most people thought he was just being a proud father.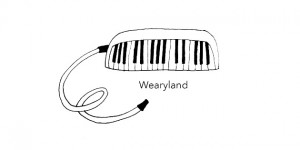 But when Maaike started playing the piano everybody realized they were wrong and the father was right, as usual. And when on a hot night in Barcelona she gave her first concert, the whole audience went quiet as soon as she started singing. With bated breath they witnessed how a star was born. And as always these past 20 years, Alain was standing right next to her.
And now Alain and Maaike have recorded an album. Eleven songs written in the twenty years that have passed since Alain got the big news that made him run up to the bedroom. They have recorded the songs in a home Maaike might leave soon, ready to spread her own wings. And they have given a name to the unique bond between a father and his daughter. That name is Wearyland.
---
Don't forget to follow our Spotify Playlist: