Debut album "Roseland" by The View Electrical out now
|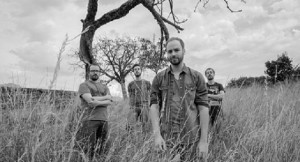 As previously announced and after two years of hard work, "Roseland", the debut full-length effort signed by Swiss alternative indie-pop band The View Electrical is available right now for physical (CD sleevepack, 2xLP) & Digital "pay what you want" through the almighty Hummus Records (Coilguns, Darius Impure Wilhelmina, Kunz, Ø L T E N, Nevborn…). The album has also been unveiled for entire streaming on Bandcamp.
Including members from Cortez, Kruger, No Sun In San Francisco or Sonograph, the band is gonna release with "Roseland" a delicate sonic flower in a classy package of careful production signed by Raphael Bovey (Kruger) and Magnus Lindberg (Cult Of Luna). Synths, strings, orchestral guitars, breathing drums and a million voices in the land ofroses. Don't expect it to be all gentle and smooth though, you might be surprised by some weird electronic drones and crushing post-hardcore climaxes. Sadness, despair, hope and joy all next to each other. Life in every breath. Twelve songs about flowers and thorns featuring a dozen of musicians from Switzerland and beyond.
Fred Aellen (Sonograph) and Raul Bortolotti (Kruger) have finally broken their loneliness spell. They invited numerous swiss friends (Abraham, Kehlvin, Cortez, etc…) and foreign heroes (Jeniferever, Stereograph, etc) to their land of inner peace. They gathered more than 20 musicians from all backgrounds and transformed step by step a dozen confidential demos into a coherent and rich hour of music. "Roseland" is a wide patchwork of styles and people, an incredibly dense release for a first real-life experience. The result of two creative minds at work for two busy years.
---
Don't forget to follow our Spotify Playlist: