Nick Cave and Warren Ellis returned to their native Australia for 16 shows last year, taking their acclaimed 2021 album 'Carnage' on the road
|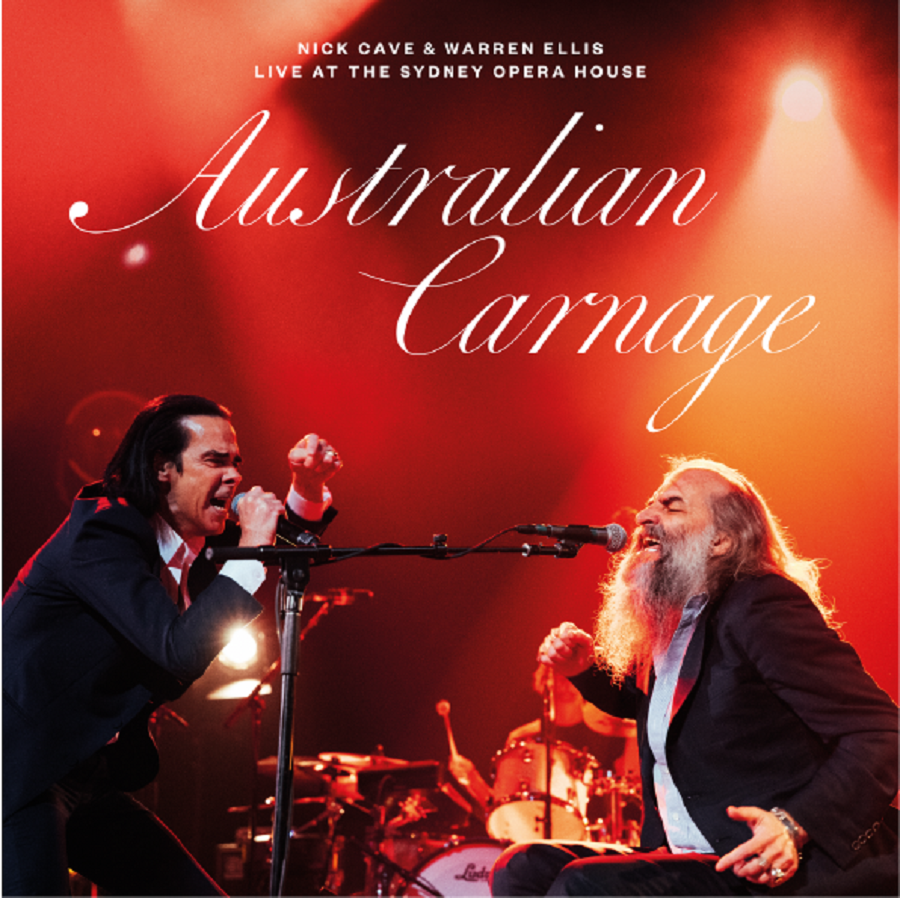 Three performances at the Sydney Opera House on December 16th, 17th and 18th were the
climactic shows of an emotional trip, captured for a luminous new live album, "Australian Carnage –
Live At The Sydney Opera House". The album will be released on digital and streaming services this
Friday 25th August, with an 8-track vinyl to follow on December 1st on Goliath Records.
'Touring Australia with Warren after so much time away was one of the highlights of recent years.
Every show was moving and unforgettable, from the intimacy of playing in theatres and arts centres,
to the vast and uplifting nights at Hanging Rock, through to our final three nights at the inimitable
Sydney Opera House. We are excited to share these recordings, made at the Sydney Opera House, and hope they capture even a tenth of the collective elation we felt at those shows. We'll never forget them.'

Nick Cave
Joined by Radiohead's Colin Greenwood and regular Bad Seed Larry Mullins, plus backing vocalists
Wendi Rose, Janet Ramus and T Jae Cole, Cave and Ellis performed with intensity and humour to a
rapt audience. Highlights include a delicate "Bright Horses", a spiritual "Carnage", and a visceral
"White Elephant", along with the yearning back-to-back gut punch of "Waiting For You" and "I Need
You".
'Nick Cave and Warren Ellis' Australian Carnage live album is an extraordinary record of two of the
most beautiful and brilliant artists of their time reaching for something else with their immensely
talented on-stage collaborators. They were more than concerts that Nick & Warren brought to
Australia and Sydney Opera House; something profound and numinous was happening in the Concert
Hall between the artist and the audience at their performances here, and I hope this album touches
you too.'

Sydney Opera House Head of Contemporary Music, Ben Marshall.
While Ellis is a long-term member of The Bad Seeds, and he and Cave have composed and recorded
scores and worked on many other projects together, this was the first time the pair had toured
Australia as a duo.
Their creative chemistry is rooted in their long history of music-making, both as collaborators and as
individual artists. They first crossed paths in 1993, when Ellis played violin on several songs for the
Nick Cave & The Bad Seeds album, Let Love In, before going on to join the band as a full-time member.
The two have also recorded as Grinderman, formed in 2006, and have composed and recorded
numerous film, TV, and theatre soundtracks together.
Australian Carnage – Nick Cave and Warren Ellis Live at The Sydney Opera House tracklist:
Digital Album:
Spinning Song
Bright Horses
Night Raid
Carnage
White Elephant
Ghosteen
Lavender Fields
Waiting For You
I Need You
Cosmic Dancer
Breathless
Hand Of God
Shattered Ground
Galleon Ship
Leviathan
Balcony Man
Hollywood
Ghosteen Speaks
Vinyl Album:
Side 1:
Bright Horses
Carnage
White Elephant
Leviathan

Side 2:
Ghosteen
Waiting For You
Breathless
Balcony Man
---
Don't forget to follow our Spotify Playlist: