Sam Smit sings Beyonce's 'Drunk in love' in the shower
|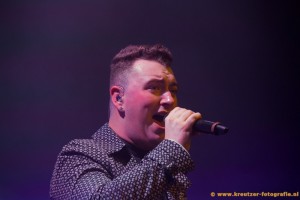 We all know that Sam is an amazing singer and that he is a Beyonce fan is not a secret either. But the fact that Smith combines this in the shower is a surprise. Smith was recently caught on tape by his boyfriend, Jonathan Zeizel, when he was doing his vocals in the shower. Go to this link for the video that was posted on Instagram: http://instagram.com/p/xj-7cslg69/
Last week Smith described the modern day pop stars as 'aweful'. The singer, who was interviewed by Chaka Khan for the latest issue of V Magazine, refused to specify but he critiqued te attitude of the pop stars.
"Even when you meet them. I won't name names, but some of these pop stars are just awful. And they have not even had half the success that you've had and yet you're so humble and kind" he told Khan.
Beginning last year Sam Smith was named winner of the BBC Sound of 2014, on top of the list of most promissing artists. February that year he won the Critics Choice Award at the BRIT Awards even before his debut album 'In the Lonely Hour' was released. Within the first week the album was sold 166.000 times, breaking the sales records in the United States of America. It is the first time in 23 years that a Brittish singer was able to do this.
Sam Smith will be playing on March 2nd in a sold out Heineken Music Mall Amsterdam.
Another collab by Steph & Sam
Photo (c) Hans Kreutzer, archive Maxazine.nl
---
Don't forget to follow our Spotify Playlist: