Kanye West Releases First Single From Forthcoming Solo Album
|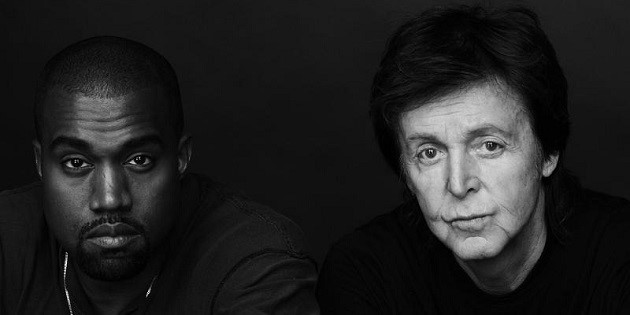 New Years Day, 2015 – one of the most powerful and unexpected music collaborations in modern history has been released exclusively on the iTunes music store: "Only One." The single features the undeniable talent of two musical and cultural icons: Kanye West and Paul McCartney.
It will be the first publicly available recording from what has become a prolific musical collaboration between these two legendary artists.
In early 2014, Paul McCartney and Kanye West first began working together in a small bungalow in Los Angeles. The process that would result in "Only One" began with a simple brainstorming session between the two: With McCartney improvising on the keyboards and Kanye vocally sketching and shaping ideas in a stream-of-consciousness riff.
When they played back the recording afterward, something remarkable happened. Kanye sat there with his family, holding his daughter North on his lap, and listened to his vocals, singing, "Hello, my only one . . . " And in that moment, not only could he not recall having sung those words, but he realized that perhaps the words had never really come from him.
The process of artistic creation is one that does not involve thinking, but often channeling. And he understood in that moment that his late mother, Dr. Donda West, who was also his mentor, confidante, and best friend, had spoken through him that day.
"My mom was singing to me, and through me to my daughter," he said, astonished.
The small group in the room kept listening: "Hello my Only One…just like the morning sun…you'll keep on rising till the sky knows your name."
To some, Kanye's insight didn't immediately register. But then he explained: The name Kanye, which his mother had chosen, means "only one."
And then it dawned on everyone there: Something powerful and undeniable had occurred through the power of music and of letting go. A message had been passed down through generations.
And so it is that there was only one song that could be released first from this groundbreaking collaboration: "Only One," an anthem of positive reflection, hopefulness and joyous celebration to usher in a New Year.
There is only one you. There is only one life. And there is only one 2015. "Only One" is available exclusively on the iTunes music store in 119 countries exclusively for one week. Enjoy. And Happy New Year.
---
Don't forget to follow our Spotify Playlist: